The Cassini spacecraft could be at risk of damage when it makes its next closest approach to the moon Enceladus.
Mission managers have warned that the larger particles of dust and ice emanating from the southern pole of Enceladus pose a real threat to the craft.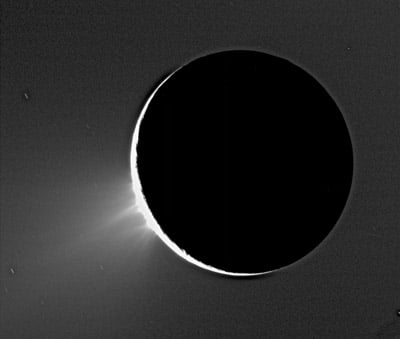 Enceladus, and all that dust. Credit: Ciclops
The craft is due to pass the Moon next March, when it is scheduled to take a closer look at the jets of material. It might even pass directly through the jets.
Analysis of data from the last fly by, back in 2005, suggests that the average particle in the plumes is much much smaller than anything that could damage the craft. But researchers are now working to determine whether or not the pressure of the jets would be sufficient to throw larger particles into the path of the spacecraft.
Larry Esposito, a researcher at the University of Colorado, told Reuters: "These plumes were only discovered two years ago and we are just beginning to understand the mechanisms that cause them. A grain of ice or dust less than two millimetres across could cause significant damage to the Cassini spacecraft if it impacted with a sensitive area."
Speaking at the European Planetary Science Congress in Potsdam, Germany, Esposito said calculations suggested the chance of a dangerous collision was about one in 500. ®