High resolution images sent back by ESA's SMART-1 lunar probe are helping scientists piece together the geological and volcanic history of the Moon.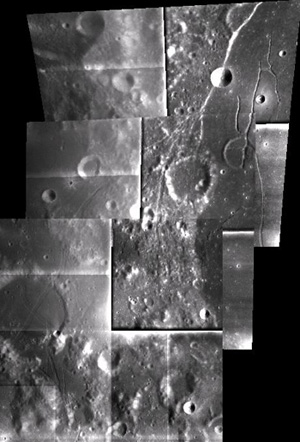 SMART-1 AMIE image mosaic of the edge of Mare Humorum.
The pictures, combined with data from the US's Clementine mission, have revealed small-scale geological features on the lunar surface that have gone undetected until now.
The data has uncovered a history of volcanic flooding of many of the mid-sized craters in and around the lunar basins.
For the first time, strike-slip faults have been observed with SMART-1 in the Humorum basin (pictured). A strike-slip fault is a vertical rupture, one side of which slides past the other. The San Andreas fault, for instance, is a strike-slip fault.
In the Procellarum basin, meanwhile, the images have revealed wrinkle ridges that seem to have been casued by thermal and mechanical deformation, a result of volcanic activity.
More pictures are available here. ®