Toshiba has announced what it claims - and it certainly looks that way from where we're sitting - is the world's first 32GB SDHC memory card. The catch: you'll have to wait until January 2008 for it.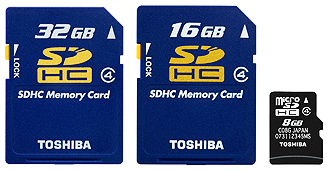 Toshiba's SDHC cards: all the way up to 32GB
Unwilling to do so? Then Toshiba may be able to satisfy you with the 16GB version it expects to put on store shelves in October.
Both cards are rated Class 4 - for a minimum data transfer rate of 4MBps - as is the third memory card Toshiba announced this week: an 8GB Micro SDHC card, also due to go on sale in January 2008. All three cards have a maximum data speed of 6MBps.
32GB is the maximum capacity possible under the SDHC card spec., so rival suppliers are going to have a job topping Toshiba.
Toshiba didn't say how much it expects consumers will pay for the cards, but they're unlikely to come cheap, we'd say.