Sony unveils PlayTV telly tuner for PS3
Record and play digital TV on your console
Sony has unveiled its forecast TV tuner for the PlayStation 3, enabling users in Europe to record and watch digital TV on their games console, Sky+ style.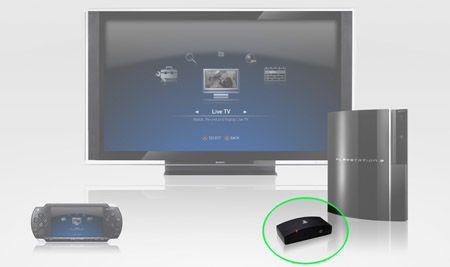 Sony's PlayTV
The announcement was made at the Leipzig games show in Germany - a show being heralded by many as the new E3, or at the very least a respectable European equivalent to E3.
The twin-tuner add-on will be called PlayTV and will launch early in 2008 in the UK, France, Italy, Germany and Spain, with other countries soon after. This is the first time a console has been given digital video recorder (DVR) capabilities, offering gamers access to free channels that are delivered over digital terrestrial TV.
David Reeves, President of Sony Computer Entertainment Europe, claimed PlayTV would extend the "broad entertainment credentials of PS3". He said the accessory would be priced between $135 and $200.
Console competitor Microsoft has promoted its Xbox 360 as a platform for internet TV - but its Xbox Live video download service, does not offer live TV, only downloadable movies and television shows, and only within the US.
PSP users will be able to download PlayTV-recorded content and play it on their handhelds. However, Sony said it will also offer a video download service for the portable console, developed in conjunction with satellite broadcaster Sky and called Go!. It's due to launch in the UK in January.
Sony also announced details of a video chat and instant messaging system for the PSP, called Go!Messenger, this one co-developed by BT and also to be launched in January. Sony and BT said in May this year that they were working together on PSP messaging applications.
Finally, the PSP is also set to get its own GPS add-on, called Go!Explore. Unfortunately, no pricing details for any of the new PSP features were given.