This article is more than 1 year old
BioShockers delivered from DRM hell
Rapture on up to five PCs
After howls of pain from gaming addicts everywhere, 2K Games has eased the draconian DRM restrictions on its much ballyhooed new title BioShock.
In the wake of the game's launch earlier this week, countless users - including a senior associate editor with PC Gamer - complained that BioShock's SecuROM copy protection software was ruining their lives, and though the company was initially slow to respond, 2K has now posted a solution to the official BioShock site: The Cult of Rapture.
"We have been reading and listening to your frustrations over SecuROM, PC activation problems, and technical support issues since BioShock launched on Tuesday, and we've devised a plan to help," wrote support rep Elizabeth Tobey.
Bioshock is a first person shooter developed by 2K Boston, once known as Irrational Games. In development for nearly three years, it's the spiritual successor of the highly-regarded PC series System Shock and System Shock 2. Set in 1960, the game puts you inside the brain of a plane crash survivor named Jack as he explores a ruined underwater Utopian society known as Rapture. El Reg hack Austin Modine calls it "totally rad-sauce".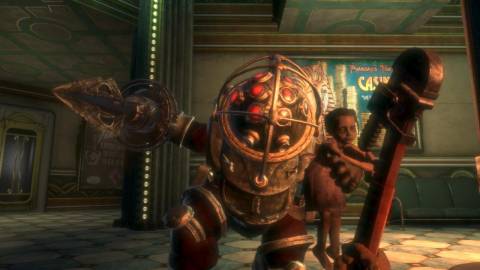 Totally rad-sauce
When the game shipped, users couldn't install it on more than two different machines, and each machine was limited to three reinstalls. After using his product code to activate the game on two test machines at his office, PC Gamer's Dan Stapleton was unable to get it running at home - even after he'd un-installed on the two work machines. "When I got [home] and went to activate, I was stopped dead by a failure message that informed me I'd installed with this code one time too many," he wrote. "What... the... $%~&!"
Adding insult to injury, the game won't play unless the DVD is actually in your PC.
Stapleton immediately contacted 2K technical support, but like so many users, he failed to receive satisfaction after bouncing aimlessly from support rep to support rep. Then, on Wednesday, the company's activation server went down, preventing some users from loading the game on even a single system.
One Reg reader has compared all this to the infamous Sony rootkit fiasco. But we think that's a little much.
In response to the screaming hordes, 2K has introduced a "5 by 5 plan," letting users load the app on up to five machines - with up to five reinstalls on each. Plus, it claims to be hard at work on a "revoke tool" that allows users to detach a product key from one machine and move it to another.
Naturally, the company also says that it's working to alleviate tech support problems, shifting at least some of the burden to the makers of SecuROM.
"We are also working with SecuROM and 2K customer service, so that when you do need to call in support problems, you get answers to your questions faster, without much waiting or being bounced around. SecuROM has been given much more autonomy to help fix your problems quickly and effectively," Tobey said. "I am personally sorry for anyone who got bounced around in the past couple days (I even think I contributed to this problem) and we're going to make sure that does not happen in the future." We attempted to contact Ms. Tobey and 2K Games, but they did not respond.
The activation server? It's back up. But there's no relief in sight for a man who calls himself "Epiphyte". When he installed BioShock, his PC exploded. Really. He has pictures. ®