Review To say that I find BlackBerry-type phones unappealing is an understatement. So the prospect of using two of these phones was about as attractive as cleaning the wax out of my left ear by sticking a knitting needle through my right ear.
Why? For me, the BlackBerry form factor seems to be the worst of all worlds, highlighting product designers' total lack of imagination. When the designers insist on putting keyboard and screen on the same surface they compromise both: neither the keyboard nor the screen are as good as they could be. Not to mention that these monsters are unwieldy - like putting a saucer to your head - and terminally uncool. Can you imagine anyone holding one of these up in the air at a gig to take a picture? Thought not. Then there's the whole business of "CrackBerry addiction"...
For now, however, the business market has little choice but to look seriously at phones with this design.
But over the past year, RIM has gone from strength to strength, and is now joined by two heavyweight rival platforms: Nokia, and for the first time, Windows Mobile backed by serious Tier 1 vendors. This head-to-head weighs up the best of each of the new contenders - Nokia's E61i and Motorola's new Q9 phone. I looked at this from a user's perspective of getting the job done, rather than a Megahertz battle, for a full month each (and as a sanity check, I also tried to perform the same tasks on Nokia's 9300i Communicator).
The results might surprise you. They surprised me...
The discomfort factor
How did the E61i and Q9 shape up, literally? Nokia launched its first BlackBerry clone, the E61 a year ago, and the 'i' successor appeared this spring. Although the hardware and software remains essentially the same - the E61i adds a camera, takes MicroSD rather than MiniSD, and uses the thin and very breakable new Nokia charging connector - it feels much thinner.
In fact, this is a matter of perception, as it's only 0.1mm thinner, but the cleaner edges and superior build quality (no squeaks, here) are part of a stronger, cleaner design.
Motorola's Q9 makes it feel like a giant, however. It's slightly narrower and even thinner. While you can't disguise the fact that the Q9 is a Blackberry-type phone, it easily wins the battle of the shirt pocket.
---
Making a call
Curiously for devices with a QWERTY keyboard, both contenders use a one-handed phone interface designed for simple numeric keypad phones, rather than optimize a PDA-style inferface. Nokia's contender uses S60, while Motorola's uses Windows Mobile 6 Smartphone. That means both UIs leave the user bereft of even the most basic shortcuts, such as "Ctrl-S" for Save, which really makes them struggle when using sophisticated applications.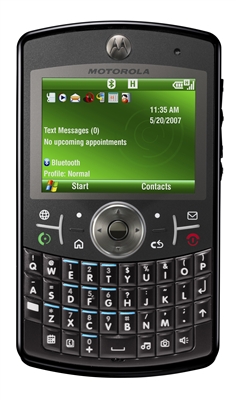 For the simplest tasks however, it isn't long before a winner emerges. Motorola's Q9 makes its home screen, or "Standby" in Nokia lingo, accessible with one keystroke, while Nokia's generally takes two. From here, punching in any substring from the name of the contact you wish to dial brings up a list of matches instantaneously, along with the number in numerical form. Nokia's S60 requires you to start the Contacts application manually, and it doesn't do loose substring matches. In real life, I was placing a call within five seconds on the Q9 from a cold start, but the E61i couldn't do the job in less than 10 seconds, and on average took 15-20 seconds.
(A miraculous piece of software called QiX from Zi Corporation does this job for S60 phones, but unfortunately it's only sold to carriers and handset vendors - and not to us punters.)
Our "control" device, the Nokia 9300i, was a little creaky compared to the instantaneous Motorola. However, it was much better at finding contacts than the newer, but inferior S60 contacts book. The optimised S80 interface, with its helpful "CBA" (Command Button Area) side buttons, comes into its own when making conference calls or switching between calls. The combination of idiot-friendly labelled buttons and sparse, unfussy dialogs makes the 9300i one of the easiest phones to use.
Motorola 9/10, Nokia 4/10; Ye Olde Communicator: 8/10
Similar topics