Sharp has lowered the bar for the thickness of an LCD TV. It has developed a prototype 52in telly that's as little as 2cm thick.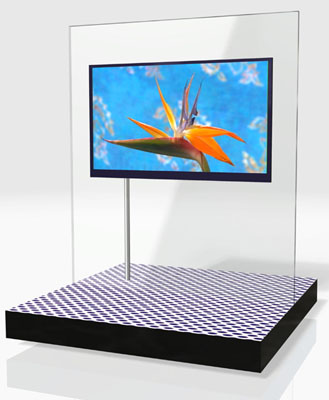 Sharp's super-thin prototype LCD
Admittedly, it does incorporate components to its rear that make some areas stick out a further 0.9cm, but who's counting? By comparison, today's comparably sized LCD TVs range in thickness from 8cm up to 14cm - four to seven times as thick as the Sharp prototype.
Sharp's screen impressive contrast ratio of 100,000:1, which is a significant improvement over existing LCDs of a similar size, which tend to range from 1000:1 to 3000:1. However, it's a significant drop from Sharp's own ASV Premium LCD 37in display, which boasts a 1,000,000:1 contrast ratio.
The display weighs 25kg and it's been rumoured that the set also incorporates wireless transmitter and receiver technology for HD-capable home video streaming.
Sharp hasn't released much further technical information about the set yet and hasn't confirmed when - or even if - it might appear on the market, or how much it might retail for. So for the time being we'll just have to make do with thicker and more power-hungry LCDs with lower contrast ratios. Sob.