This article is more than 1 year old
Philips shines light on Aurea LCD
IFA 07 Philips has cast some fresh light over the HDTV market and unveiled its Aurea LCD telly, the successor to Ambilight. The new set incorporates LEDs into its frame that give out warm shades of colour in response to the display's changing picture.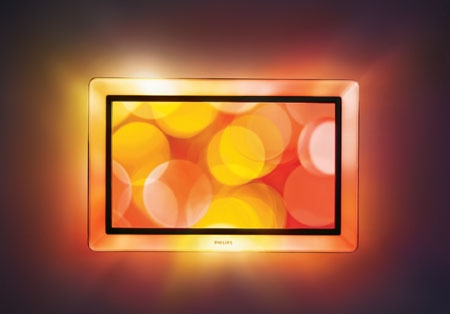 Philip's Aurea: let it shine
The 1080p TV, which is only available in a 42in screen size for now, was unveiled today at the IFA consumer electronics show in Berlin. The technology works by dividing the LEDs around the set's edge into two streams: one aimed towards a diffuser box that emits light through the set's frame, the other diffused around the back of the set, which Philips claimed helps to cast a soft glow around the set.
For example, if a lady wearing a pink jacket appears in the bottom right of the screen, then that area of the frame and, say, 8in further out is lit up in a suitable hue. However, we'd like to see it's colour interpretation of Day of the Dead...
Philips' TV also only seems to be suitable for wall-hanging though, and we're not sure how immersive the effect would be if the TV were sat in the corner of your lounge and surrounded by DVDs.
A total of 26 "hidden" speakers are also built into the set, and a Philips representative boasted that this use of sound and colour outside the confines of the traditional TV helps to make watching television a more seductive and immersive experience.
The Aurea uses 100Hz technology to eliminate display artefacts such as ghosting and has a 3ms response time. The inclusion of not just one but three HDMI ports also makes it future-proof from a connectivity point-of-view.
The set is due to become available throughout Europe next month, but a retail price has not yet been set.