Samsung Blu-ray Disc player line blooms
Dual-format machine launched
---
IFA 07 Samsung's third generation of Blu-ray Disc players made an appearance at the IFA show in Berlin today. The company took the wraps of four machines, including the first BD-equipped home cinema set-up and a dual HD DVD/Blu-ray rig.


Samsung's BD-UP5000: one player, two formats
The star of the line-up is the long-awaited BD-UP5000, Samsung's dual-format player, capable of full HD DVD playback as well as Blu-ray. Like all the players unveiled today, the BD-UP5000 supports the full array of HD resolutions and is capable of 24fps at 1080p, all through HDMI 1.3.
The machine also incorporates composite-, s- and component-video outputs, along with a full set of analogue and digital audio feeds. The BD-UP5000 can handle 7.1-channel sound, as can the Blu-ray only BD-P2400, which offers the same features as the dual-format player, minus the HD DVD support of course. Both players can upscale standard-definition content to any HD resolution.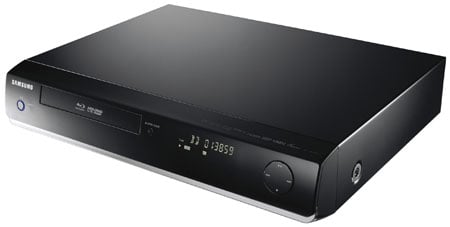 Samsung's BD-UP5000
On the HD DVD side, the BD-UP5000 incorporates local Flash storage to make the most of the format's HDi interactivity system. It support's HD DVD's picture-in-picture mode, too.


Samsung's BD-P1400: budget Blu-ray?
The BD-P1400 sits under the BD-P2400, offering the same array of connectors and HD support, but lacking the upscaling technology and limited to 5.1-channel audio output.
The HT-BD2 home cinema set sits between these two players - it does 7.1-channel sound through its eight speakers - four towers, two satellites, a sub-woofer and a centre speaker - but there's no upscaling facility. The set can pump out 1.1kW total sound power.
Samsung didn't say how much is plans to charge for these boys, but we won't have long to wait. The BD-P1400 is due to hit the shops in September, with the BD-P2400 following in October. The HT-BD2 and the BD-UP5000 are both scheduled to go on sale in Q4, Samsung said.
Similar topics
Narrower topics