Here at the Reg, a lot of us tech fancier Vultures are flying-car friendly. We want our personal aerial ride and we want it now. But we're getting a bit tired of Dr. Paul Moller and the way people keep breathlessly writing him up. (Even the Reg has fallen into his trap on occasion.)
Now those renowned technical wizards at the Beeb are at it, offering a particularly mindless vid interview with the infamous Moller, in which he pushes (yet again) his flying-saucer style M200, which he now claims is "in production" and "will be available next year." The Beeb biz section writes it up more or less verbatim.
Blurry YouTube footage? Be our guest:
Even Moller himself admits that he has been punting flying saucers since 1965 and the M200 since 1989. Plainly nobody is going to believe that his machinery flies any more - his company video is rather unconvincing. Moller's latest scheme is to sell the M200 as a hovering ground-effects vehicle able to cruise 10 feet or so above the surface at 50 mph.
"It's not a hovercraft," says Moller in his company release. No shit; hovercraft actually work, though rather disappointingly.
"You can speed over rocks, swampland, fences, or log infested waterways with ease," says the good doctor.
"The electronics keep the craft stabilized at no more than 10 feet altitude, which places the craft within ground effect where extra lift is obtained from operating near the ground."
Oh dear. The ground effect is real, but this isn't. Helicopters experience ground effect when close to the surface, and it does indeed give them extra lift. But it drops away sharply to insignificance above a height of half the rotor-disc diameter. The fans in Moller's M200 are eighteen inches in diameter at most; the machine will experience useful ground effect up to about nine inches. Or, let's be charitable and say the whole craft will function as a single rotor disc (it won't, but there). In that case it might get as much as two or three feet off the deck - tops. Oh, and ground effect needs a hard surface, too; and a lot of a helicopter's ground effect comes from the reduction of tip vortexes, a benefit that Moller's ducted fans can't get.
You'd do better with a regular, skirted hovercraft than with Moller's ridiculous non-flying flying saucer. Frankly, you'd do better with a normal bloody car.
Of course, Moller's position would be that the M200 doesn't actually need ground effect because it can really fly, and the restriction to ten feet is purely to pacify those meddling FAA busybodies.
Moller also told the Beeb that his latest forecast for FAA certification of the proper M400 flying Skycar was now 2010. He no longer bothers to update his website, merely saying that an "FAA certified model is more than four years away," which makes 2011 by our calculations. Whatever; this forecast has been rolling back time out of mind.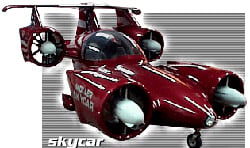 The planned M400 Skycar.
Anyone considering giving Moller or his company money should read what the Securities and Exchange Commission (SEC) had to say about his operation in 2003, after he was caught flogging "fradulent unregistered stock" on the internet. According to the civil fraud filing by the SEC it is agreed that:
"Moller, age 64, the company's founder, chief executive office and president, made false and misleading statements about the company's imminent listing on the NYSE and the Nasdaq Stock Market ... and the prospect for Skycar sales and revenue. In September 2001, the company filed a fraudulent registration statement with the Commission that exaggerated the true scope of patents the company held for the Skycar."
Moller has never been foolish enough to contest the SEC complaint, which says:
"In reality, Moller International had virtually no revenue, had never sold a single Skycar, and never came close to meeting the stringent initial listing requirements for either the Nasdaq or the NYSE ... the Skycar was and still is a very early developmental-stage prototype that has no meaningful flight testing, proof of aeronautical feasibility, or proven commercial viability ..."
The feds went on to say that:
"Moller also misled investors with statements suggesting that MI owned valuable intellectual property and patents related to the purportedly cutting-edge Skycar technology ... Moller routinely misrepresented Moller International (MI)'s patent holdings, claiming that the company "held" 11 domestic patents. He also falsely claimed that these patents were valuable ... As late as May 2002 ... the company again falsely claimed that it owned 11 domestic patents ... In fact, eight of those eleven patents were expired patents in which MI had no ownership interest. For the remaining three patents, MI has ultimately acknowledged they have no value ..."
So after 40 years and more of raising and spending money, Moller apparently owns no technology of any value. The SEC - without challenge, indeed Moller accepted their fine and injunction willingly - says:
"The Defendants made the above-referenced misrepresentations and omissions knowingly or with reckless disregard for the truth."
The Skycar, the M200 non-flying saucer and their constant, uncritical writeups make us mad, because they're a large part of the reason that "flying car" is starting to translate as "pie in the sky." Plenty of excellent ideas have failed because of this sort of thing. We want our flying car - but we'd no more buy one from Paul Moller than we would a secondhand ordinary car from Arthur Daley.
For shame, BBC. And Guardian.®