China looking to develop scramjet missile tech
Existing sabres don't rattle noisily enough
Reports are emerging that Chinese thruster-boffins are mounting a major push to perfect supersonic combustion ramjet (scramjet) technology, in a move that could stimulate American research.
According to a writeup in Aviation Week, details of the Chinese efforts emerged at the recent American Institute of Aeronautics and Astronautics Joint Propulsion Conference in Cincinnati. Chinese researchers gave presentations, offering a rare look inside the country's aerospace programmes.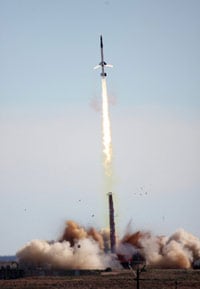 A test scramjet lifts off aboard a booster rocket.
A scramjet is a step forward from an ordinary ramjet, which uses its own forward speed to scoop air and stuff it into a combustion chamber to burn fuel. A ramjet won't even fire up until it's moving pretty fast, so it normally has to be boosted up to speed using a rocket. The main exception to this is the remarkable J-58 combo engine and multi-mode housing used in the famous cold war SR-71 "Blackbird" spy plane and some of its predecessors. The J-58 was effectively a turbojet mounted inside a ramjet. It used a cunning spike that gradually retracted into the intake, allowing an SR-71 to get airborne from a standing start and then accelerate to cover long distances at mach 3-plus; though its performance was apparently pretty poor at low speeds.
Once a normal ramjet kicks in it can get up to four or five times the speed of sound, at first operating much more fuel-efficiently than a rocket. Ramjets, needing no spinning shafts and fans, can also survive the heat of high speeds more easily than normal turbojets. In the 1950s and 60s they were used to power heavy, long-ranging supersonic missiles.
Normal ramjets are limited, however, by the need to keep the gas flow in the combustion area subsonic. Slowing down the intake air begins to result in serious energy losses as the speed increases, giving ramjets a practical speed cap of Mach 5 or thereabouts; a lot slower if they're to have much range.
This won't do for the Chinese military, who would like to be able to menace American carrier battlegroups. Existing, ramjet-powered "Sunburn" ship-killer missiles from Russia can skim the waves for 100 miles or so at Mach 2-plus; but this still offers the US Navy enough space and time to intercept them - or their launching ship or plane, anyway.
If China can get scramjets working, though, things might change. The ability to burn fuel in an airstream that is moving supersonically could offer a big jump to hypersonic speed at decent range. If China could build a shipkiller that flew at Mach 6-plus for a few hundred miles, it would be a bold American admiral who dared take his fleet anywhere near the Taiwan Strait: and that might enable Beijing to lean more heavily on the Taiwanese.
So, funnily enough, Chinese engineers visiting Cincinnati revealed that a lot of work on scramjets has been underway, and that models are about to begin testing up to Mach 5.6 in a new Beijing wind tunnel. Full details of the revelations are available from Aviation Week here.
In reality, China is still heavily reliant on Russian tech for old tricks such as turbofans and ramjets, let alone new gear. Even the Russian and Americans don't yet have scramjets that are ready for prime time, though the US is working quite hard on "combined-cycle" kit, which might add Mach-6 scramjet abilities to a Blackbird-style plane. Not the least of the problems is that scramjets need to be fuelled with bulky, inconvenient hydrogen rather than conventional jet juice, and need to change shape significantly as they shift from "ram" to "scram" while accelerating through Mach 4. And the whole thing probably still needs to be kicked up from stationary to starting speed using compressor fans or rockets or something to begin with.
The People's forces aren't going to catch up to the state of the art overnight. But they want everyone - especially people in Taiwan - to know they're trying.
Us Vultures aren't all that worried about Taiwan's status vis-a-vis Beijing, and we're rather sceptical whether two nuclear powers that are economically joined at the hip, like the US and China, are ever going to get into a big air-sea battle with each other over the issue.
But we like our scramjets, not least because they're one of the possible routes by which access to space might become a bit more common. If ballistic missiles can give us silicon chips, if other Pentagon research can give us the internet, maybe hypersonic missiles can give us working spaceplanes, or airliners that could carry Australians home in just two hours*, or something else nice. It's all a bit more refreshing and innovative than just building bigger jumbos like Airbus, or recycling the Apollo programme like NASA.
A little bit of superweapon competition never hurt anyone. Erm, hold on ...®
*Though there would be the inevitable downside that they could get back here just as quickly