This article is more than 1 year old
TV makers go ape for 100Hz LCDs
But should consumers be as keen?
Almost every TV maker exhibiting at the IFA consumer electronics show in Berlin last week used the event to launch LCD TVs capable of a picture refresh rate of 100 images a second. You couldn't move for bright-eyed booth staff there to demo 100Hz technology and persuade us to replace our LCD TVs already.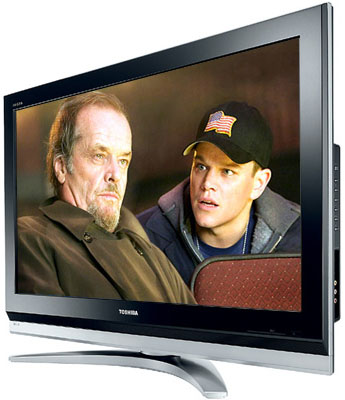 Toshiba's 32in 32WLT68 LCD: 100Hz technology on board
Looking at the many demos, it's not hard to see why. The benefits were there to see right in front of your eyes: sharper pictures, with clearer and better-defined surfaces, and smoother movement than you get from today's LCD screens.
Well, almost. For example, both JVC and Panasonic had 37in LCD TVs on their stands, each running at 100Hz. We could easily see the improvements the faster refresh rate made, but unfortunately only if we were within a cat's whisker of the screen, which is how most IFA attendees were eyeing the tellies. While flowers or buildings stood out more clearly than than they did on the old-style 37in displays set-up as a comparison, our eyes just couldn't pick-up that improvement when more than a couple of metres away from either 100Hz screen.
Here's the deal. Current LCDs refresh the picture at a rate of 25-60Hz, depending on whether they're aimed at the European or US markets, respectively. They essentially operate at the same rates as the HD source material: 25fps or 30fps for 720p and 1080p content, and 50 or 60 fields per second for 1080i pictures. Each field comprises only half the picture, so those 50Hz and 60Hz interlaced - hence the 'i' - are effectively 25 and 30 complete images per second.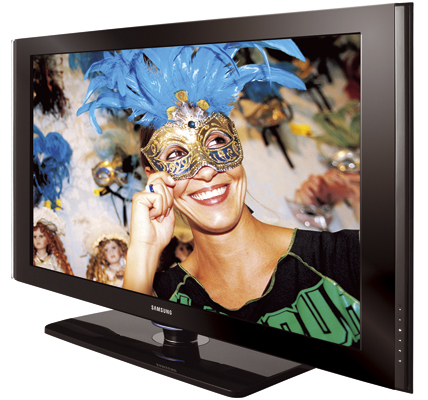 Samsung's 100Hz F9 series
Moving up to 100Hz means running the source at 100 fields per second or 50fps. Since there aren't that many fields or frames in the source material, the TV has to invent them, using complex calculations to work out what the extra frames and fields look like.
So if a soccer ball moves eight pixels from left to right between frames one, two and three, the TV can generate two extra frames between one and two, and two and three, in which the ball moves four pixels. The result: five frames in which the ball moves a total of eight pixels, but it does so, to the eye, more smoothly than before.
The upshot, the various vendors claimed, is an end to the ghosting effect sometimes seen in LCD TVs: that slight blurring of moving images caused because the new image is drawn even before the old one has faded away.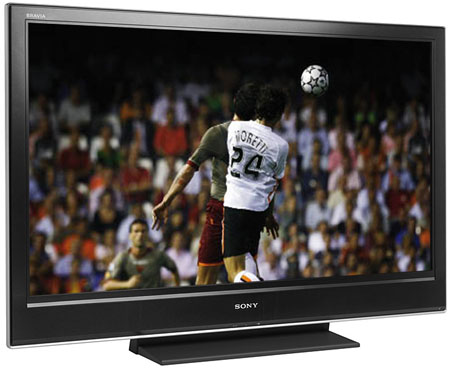 Sony's 100Hz Bravia KDL-46V3000 LCD
Some TVs we saw did a better job than others, though with demo images it's always hard to be sure the manufacturer hasn't simply picked a sequence that shows the improvement rather better than a typical HD TV broadcast would. And, again, how much difference it makes when you're sitting on your sofa, well away from the screen will be entirely subjective.
And that's the crucial point: try before you buy. Does 100Hz technology make for smoother motion and thus a better picture? Yes. Will it make for an improved home viewing experience? Possibly. Take a look at the screen in a shop, running real TV programmes, first and then make up your mind.