Battle of the stats: Blu-ray beats HD DVD
But the war continues...
---
IFA 07 Another month, another consumer electronics show, and once again the backers of the rival HD DVD and Blu-ray Disc formats come to attempt to persuade us their favoured format is winning the war. The IFA show in Berlin last week was no exception - so how is battle faring now?
The BD boys were up first, pointing to their format's lead in US for the 12-month period from 12 August 2006. According to Nielsen VideoScan sales stats, HD DVD outsold BD until around Christmas, but since then BD has been ahead - though it's come very close to falling behind on a couple of occasions.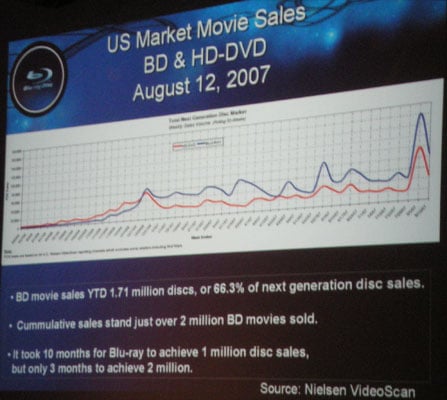 Blu-ray big in the US: Nielsen VideoScan stats from the Blu-ray Disc Alliance
Over 2m BDs have been sold in the US up to 12 August 2007, 1.71m of them in 2007 alone. Ignoring sales before 1 January 2007, some 66.3 per cent of next-gen discs sales were BDs. That figure rises to 70 per cent in Europe, according to numbers from market watcher GfK, whose stats were used by the Blu-ray camp to claim BD has been outselling HD DVD here by a factor of 3:1 since the PS3 arrived in Europe in March.
The following day, the HD DVD team had its chance. It claimed HD DVD has 70 per cent of the European IT market - drives for PCs, basically - and 70 per cent of the European "standalone player" market.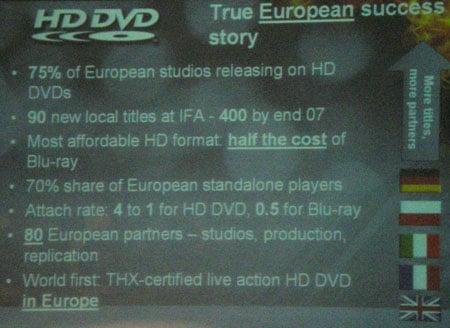 HD DVD's success, according to the HD DVD Promotion Group
That focus on "standalone players" was a key theme for the HD DVD Promotional Group's presentation, and its representatives were at pains to point out how they're a more important metric for success than console sales. Why? Because, they claimed, every HD DVD player owner here has bought, on average, four discs. BD hardware owners have bought, on average, half a disc.
That, the HD DVD PG's Ken Graffeo said, proved that HD DVD is a better bet for content providers, because HD DVD players owners buy more discs than BD player owners do.