Virgin Galactic, the firm offering suborbital rocketplane thrill rides for the very wealthy, has signed up a partner company to conduct preflight training for its customers.
The first hundred sign-ups with the Branson biz empire's nascent space operation - each of whom has paid $200k to be a "Virgin Galactic Founder" - will be trained by Nastar (National Aerospace Training and Research). Training will be carried out between September and November in Pennsylvania, and Nastar will also train subsequent Virgin Galactic customers.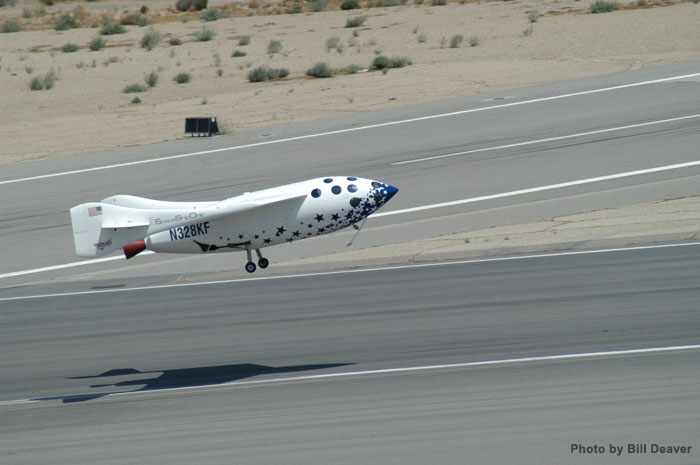 Steady on driver, I've spilt my caviar.
The Nastar Center was set up specifically with the idea of providing training for customers of the budding millionaires-in-space industry.
"Virgin Galactic chose the Nastar Center after a comprehensive review of other facilities across the US and Europe," said Will Whitehorn, Virgin Galactic president, in a Nastar release.
"Nastar Center won the day, not only because of their state-of-the-art facilities and professional experience, but also because they believe in great customer service ... we believe our founders will be in excellent hands," he added, suggesting that the package may include a certain plushness not so far seen in astronaut training.
Nastar say their training options include launch simulations with sustained G forces. The Virgin Galactic Founders will get "hands-on" training in a high-performance centrifuge. According to Nastar, "the experience culminates in a high-fidelity simulation of the actual launch into space, including the real Gz and Gx forces. Gz is the G force experienced up and down the spine, and Gx is the force felt through the chest."
After a recent explosion at the Mojave Spaceport where the Virgin Galactic "SpaceShip Two" suborbital pleasure-ships are being built, there was speculation that the first flights could be delayed. However, the timing of the training as announced by Nastar would seem to suggest that isn't the case - unless this is a bid by Virgin to placate wealthy patrons upset by postponements.®