This article is more than 1 year old
Texas Instruments stands out with 3D TV
The next big thing?
IFA 07 Watching your favourite film in high definition and on a monster screen is all well and good, but it still doesn't make the film leap out at you. Texas Instruments claims it's overcome this problem and has teamed up with Samsung to develop a 3D TV.
The display, which was last week exhibited at the IFA consumer electronics show in Berlin, creates two independent images for viewers' left and right eyes. The two images are then displayed alternately at 60 frames per second. Special specs worn by the user and synchronised with the TV stops the right eye viewing a left-eye image and so on.
The upshot: the brain combines the two images and perceives a single picture in 3D.
The set on display was a 50in model developed by Samsung and based on TI's Digital Light Projection (DLP) technology. Right now, content has to be specially mastered in order to create a 3D picture, but TI said that it hopes 3D movies and games will become readily available in the future.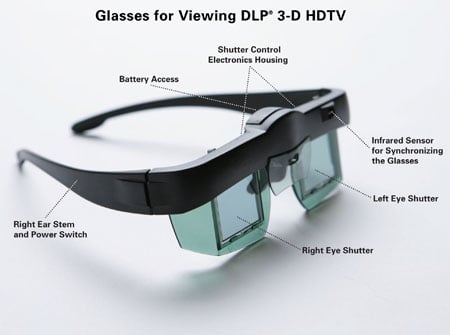 Texas Instruments' 3D specs: a sales drawback?
There are already 3D displays in existence that don't require the user to wear such, ahem, snazzy specs. However, Texas' technology does create an impressive 3D display that's clear and sharp, partly thanks to the 120Hz refresh rate.
A TI representative told us that the set is already on sale in the US, where it retails for about $1500 (£750, €870). Unfortunately, the company has yet to decided when the set might appear in Europe, or how much it will cost.