Pee-powered battery unveiled
Other liquids accepted
The trouble with batteries is that there never seems to be a power socket in sight when you want to charge them up. Thankfully, one manufacturer has developed a battery that should be slightly easier to recharge, thanks to its ability to run off a variety of liquids, including water and urine.
Dubbed NoPoPo, the battery has been developed by the Japanese company Aqua Power System and comes in standard AA and AAA formats. Although, larger capacities for use as auxiliary power supplies have been rumoured.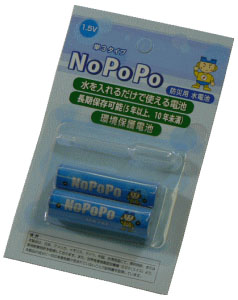 The NoPoPo battery
The AA and AAA batteries can be recharged with a variety of liquids, inserted into the chamber via a pipette and the basic principle is that a mixture of magnesium and carbon reacts when mixed with a liquid to produce, in the case of the AA battery, up to 500 milliamp-hours (mAh) of life. This puts them on a par with existing zinc-carbon AA batteries; however, existing alkaline batteries have a longer life of between 1700 and 3000 mAh.
It's rumoured the batteries retain their charge for up to 10 years, but they can be recharged only a limited number of times. It's also thought they could be slightly less harmful for the environment than existing battery compounds, because they can run off more, ahem, natural substances.
Unfortunately, the NoPoPo batteries are on sale only in Japan at the moment and a European release date or price has not yet been mentioned.
This latest battery concept marks the most recent in a series of new battery-power designs. Earlier this month, boffins at Sony unveiled a battery design based on sugar, which it claimed could generate enough power to run an MP3 player.
In May, Australian researchers from the University of Queensland even teamed up with beer-brewer Foster's to power up a battery by brewing waste.