Astronomers working at the Palomar observatory have taken some of the clearest ever pictures of space. A US and UK team of stargazers have taken advantage of new adaptive optics technology to out-do even the Hubble Space Telescope for sharpness.
The problem with taking pictures of stars from the ground is that the atmosphere gets in the way. One way round this is to put your camera in space. But the Cambridge Institute of Astronomy scientists have developed a technique that takes advantage of fluctuations in atmospheric haze to snap the sharpest possible image of the heavens.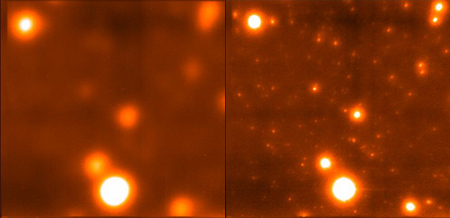 The boffins explain: "The camera works by recording the images produced by an adaptive optics front-end at 20 frames per second or more. Software then checks each one to pick the sharpest ones. Many are still quite significantly smeared but a good percentage are unaffected. These are combined to produce the image that astronomers want. We call the technique "Lucky Imaging" because it depends on the chance fluctuations in the atmosphere sorting themselves out."
Adaptive optics has been used to resolve binary systems in the infrared where previously astronomers could only see smudges. The technology has sharpened up views of singles stars too, but the newly released pictures of the Cat's Eye nebula and the M13 globular cluster (above) are quite possibly the most stunning images produced yet.
In the M13 globular cluster, the stars are crammed together as little as one light day apart. The adaptive optics allow us to see that separation for the first time, even though we are 25,000 light years away. (Although this is still a terrifyingly long way for a human to contemplate travelling, the nearest star to our own sun is a whopping four light years away.)
More pics here. ®