Venus Express celebrates 500 days around Venus
Lots of data, struggling with a bottleneck
Basking in four times the radiation its sister craft, Mars Express, receives, Venus Express is celebrating its 500th day around, and 500th orbit of, our twin planet.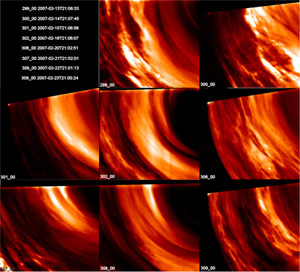 Although most of the one terabit of data that has been sent back is still being written up (brace yourselves for a flurry of papers some time fairly soon), there have been some startling discoveries.
For one, the planet's atmosphere is much more changeable than scientists expected. Recent images collected by the Visible and Near-Infrared Mapping Spectrometer (VIRTIS) have shown the atmospheric structure changes almost daily, although there are some clear patterns.
Giuseppe Piccioni, co-principal investigator for VIRTIS on board Venus Express, says: "It seems that the mid latitudes form a sort of transition region with mostly laminar flow. Moving equatorward, there is more convective flow in the atmosphere, whereas the polar region is dominated by huge vortices."
(Laminar flow describes how parallel layers of a fluid or a gas may flow past one another with no real disruption between the layers.)
The vortices at the poles are fascinating for astro-meteorologists. The giant double storms, spanning 2000km, have been seen at both north and south poles. As with other regions of the atmosphere, the vortices are not fixed, as astronomers have observed changes in the polar weather systems on sequential orbital passes.
Venus Express is doing all its science in an incredibly harsh environment, but the modifications to the Mars Express design on which it was based have worked well. Engineers say the craft is stable. The biggest challenge facing researchers is the speed at which data can be transmitted back to Earth.
Last month, Venus and Earth swung past each other in the orbits around the sun. Venus Express was on the nearside, and could send data back at maximum speed. But when Venus is on the other side of the sun, the fastest data rate available will be 22kbps.
And you thought your broadband connection was a bit wonky. ®