Apple didn't ditch it's old, faithful iPod today - it just renamed it the Classic, boosted its storage capacity, an LED-backlit display and gave it a more curvy casing than it's had before.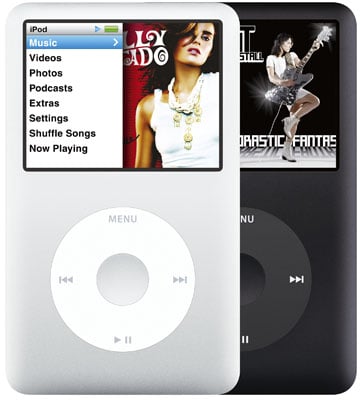 Apple's iPod Classic: the hard drive line continues
The 10.4 x 6.2 x 1.1cm player now comes with a choice of 80GB and 160GB hard drives - the latter's slightly thicker: 1.4cm. It weighs a little more, but has a bigger battery that yields seven hours' video play and 40 hours' music play to the 80GB model's five hours and 30 hours, respectively.
The Classic's display is a 2.5in, 320 x 240, 163dpi with and LED backlight for brighter visuals but reduced power consumption. For which read better battery life.
The old white and black colours are retained, sort of - the white one's actually silver, because Apple's ditched the plastic casings of yesteryear, replacing them with a metal front. You pay the same for either colour, whether you opt for the $249 80GB model or the $349 160GB version.
At this stage it's unclear whether the Classic runs Mac OS X, or a modified version of the original iPod OS updated here with the iTunes-like record-cover UI mode.
Both models are available now, around the world, Apple said.