Virgin rocket-ship terminal revealed
Pictures of the coach station to the stars
---
The Branson biz empire's suborbital-tourism-for-the-wealthy operation, Virgin Galactic, yesterday unveiled the architectural designs for its rocket-ship terminal at Spaceport America, the nascent commercial space base in New Mexico.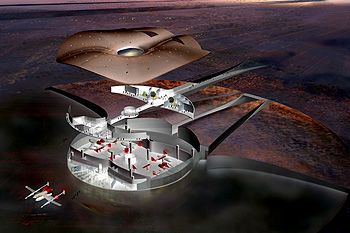 A cutaway view of the futuristic cowpat-styled terminal.
The designs chosen were put together by a team composed of American engineers from URS Corp and noted Brit architect Lord Norman Foster's operation, Foster + Partners. Foster has been resposible for lots of high-profile buildings and structures, including the London "Gherkin" and the Millennium footbridge across the Thames - which famously had to be closed soon after opening because people walking on it caused it to wobble dangerously. (Foster resisted the idea that the problems were in any way his fault, blaming engineers Arup.)
Regarding the new Spaceport America terminal, Lord Foster said: "We are absolutely thrilled to be part of the dynamic team chosen to design the world's first space terminal. This technically complex building will not only provide a dramatic experience for the astronauts and visitors, but will set an ecologically sound model for future Spaceport facilities."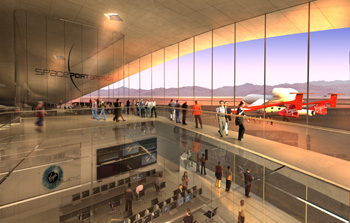 God knows why we're all here, the whole fleet only has thirty seats.
The low-lying, brown, blobby-looking complex will include Virgin Galactic training facilities and the hangar for the space-line's fleet of five SpaceshipTwo rocketplanes - tickets from $200k - as well as a pair of White Knight Two carrier planes, which will carry the rockets up to launch altitude. Visitors will be able to view the hangar from an overhead walkway, and observe the runway from the front of the building.
Beardy biz kingpin Branson expressed his excitement, saying that, "the vision for the world's first purpose-built private spaceport is truly out of this world ... Next year will see the first test flights of SpaceShipTwo and it is fantastic that we will now have a permanent home to go to, which will be every bit as inspiring for the astronauts of the future as Burt Rutan's groundbreaking [spaceship] technology."
The new complex is expected to cost $31m, paid by the New Mexico Spaceport Authority (NMSA), an arm of the state government. It will be the headquarters of NMSA, as well as that of Virgin Galactic. The Branson fat-cats-in-space operation will reportedly lease about 80 percent of the space.
More pictures (in very hi res) are available from NMSA here.®