The 605 is well endowed with features, to say the least. But it's not all good news, as several of the default menu icons link to sections where peripherals are required. Peripherals you have to buy, that is.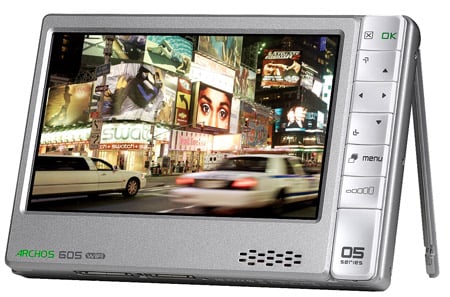 Archos' 605 Wi-Fi: feature-packed... if you buy the add-ons
A case in point: Archos likes to describe the 605 as a handheld DVR. But you can only record TV shows if you also avail yourself of the £70 DVR Station TV Dock, which also lets you play back video content on your TV. It supports 720p HD and even 5.1-channel audio. The Archos' seven-day electronic programme guide schedules your recordings and is village idiot simple to use. You can even copy content direct from your Sky+ box or existing DVR via RCA leads.
The 5G Archos also provides wireless streaming from PC to TV, allowing you to watch online content on the big screen. It connects to a PC via USB, accessing tried and tested drag and drop functionality in Windows for use as a portable hard drive. In our tests, everything worked impressively smoothly and quickly, with ample file support including PDF, BMP, PNG and, of course, JPEG.
A raft of audio and video formats are also fully catered for. Sonically, MP3, WAV and WMA (protected and unprotected) are compatible out of the box and support for AAC and AC-3 5.1 sound files is available via paid-for download for around £13 each. Video-wise, WMV and MPEG 4 (no DivX) are supported to DVD resolution, though H.264 and MPEG 2 are again only available as downloads.
Wi-Fi is the big draw where the 605 is concerned, and Archos has slipped some tidy tricks up its sleeve. Access to the net comes via the Archos Content Portal, but first you have to download and pay for - notice a theme here? - the Web browser. It's a quick and painless process, but not for your wallet.
Once running though, the 605's browser work well. It's fast enough - if not exactly speedy - and sites like Google loaded glitch-free, but it was a one-way ticket to YouTube for us, as the 605 features Adobe Flash support. Watching videos of idiotic people hurting themselves for fun in full-screen mode was a truly joyful experience, the screen standing up to the test flawlessly.