Another Dell laptop has gone to the great warehouse in the sky, wafted aloft on a cloud of smoke produced by a burning battery. The incident took place last week in China.
Details of the Dell destruction were posted on Chinese-language blog HiPDA, along with a heap of pictures showing the blaze and its aftermath. Here are a couple: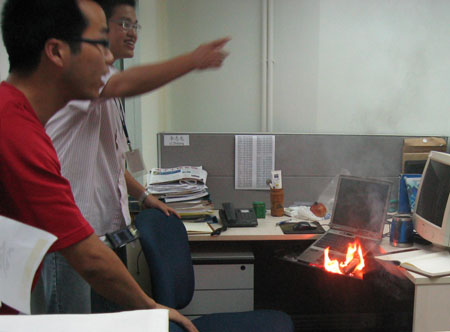 The onlookers don't seem worried...
At this stage, it's not known whether the Dell in question was a model covered by the PC giant's August 2006 battery recall and if so, whether the owner took advantage of the free replacment batteries Dell is still making available.
The onlookers appear entirely unfazed by the blaze. A sign there's more to the fire than meets the eye? Or are notebook owners becoming to blasé about this kind of conflagration it simply doesn't bother them any longer.
Thanks to Reg Hardware reader Emmanuel for the tip.