Denon has confirmed to Register Hardware that any European consumers hoping to snap-up its first Blu-ray Disc player before Christmas will have to wait a while longer. The 3800BDCI player is now scheduled for release at some point in 2008, rather than the November 2007 timeframe Denon originally quoted.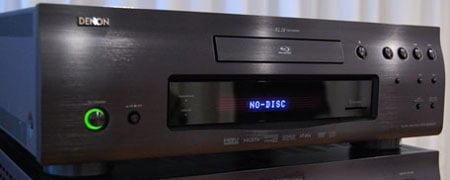 Denon's 3800BDCI: when will it ship in Europe?
A spokesman for the company told us that the November timeframe had "been given in error". Unfortunately, this is the only information Denon is willing to release at this time and hopefully the player will still be available in the silver or black colours it also originally stated.
However, Denon originally clearly pointed out that creation of the player doesn't mark its sole allegiance to the Blu-ray Disc format, and Joe Stinziano at Denon previously said that its "future plans do not preclude the introduction of high-definition products in other formats".
The 3800BDCI is scheduled to be released in the US this autumn, where it will retail for around $2000 (£1000/€1230). It operates on the BD-ROM Profile 1 version 1.1, also known as the Final Standard Profile, and which becomes mandatory for all players introduced from November.
The successor to 1.0, version 1.1 adds in a secondary video decoder for picture-in-picture and interactive audio and commentary capability, in addition to other advancements.
A European price for the player is not yet known, but it is scheduled to be released over here in, oh, wait a minute...