The US Air Force (USAF) is trialling battery-powered off-road vehicles for use by its special-forces ground units, according to reports - and you can buy one yourself for just $100,000 plus shipping.
A blog post at Wired flagged up the interesting move by the Air Force Special Operations Command (AFSOC) this week, though it appears that AFSOC may have had its electric buggies for a couple of months now. The Colorado Springs Gazette reported in July that:
"American Electric Vehicles just completed a one-year contract with the U.S. Special Operations Command to develop and build four prototypes of a fully electric off-road vehicle ... The CERV, or Clandestine Electric Reconnaissance Vehicle, had to be engineered to fit inside a CV-22 Osprey, an aircraft that can do vertical takeoffs and landings but flies more like a plane than a helicopter."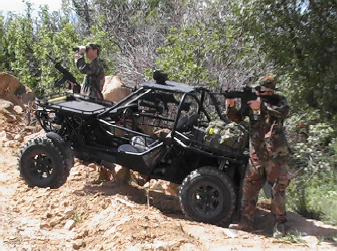 Freeze, Abdul! Right, George, get his camel; I'm sick of this.
According to this (pdf) US government document, AFSOC were given $3.2m of funding for CERV during 2007. Hopefully they get more than just four prototypes for that.
American Electric also offer their "Panther" skeletonised electric buggy for sale to the public - "no machine gun, choice of paint" - from $99,990 (not including delivery from the plant at Palmer Lake, Colorado).
The company's president, Daniel Rivers, reckons that electric propulsion is good on the battlefield because of its quietness and relatively low thermal signature.
"The Air Force wants to drop electric vehicles with troops behind enemy lines," he said.
AFSOC doesn't have any "troops" as such, being mainly an organisation providing air support to other US spec-ops arms such as Navy SEALs, Green Berets, Delta Force, MARSOC and all the rest of them. But the air force nonetheless has some super-troopers who work on the ground; the scarlet-bereted Combat Controllers and Pararescuemen, who retrieve shot down pilots, call in air strikes for other spec-ops types, provide air-traffic control at secret behind-enemy-lines landing sites, and generally bustle about making themselves useful. They also train as parachutists and even divers (god save us, what's next? Airforce divers, indeed*).
Presumably it is these USAF red berets who will whine into battle aboard their combat Segway-buggies. They might face a few difficulties, though, as the company spec sheet (pdf) says the machine will go only fifty miles before running its batteries flat. (The initial airforce requirement in 2006 seems to have been for 200 miles, but it appears this may not have been achieved.)
At that point - we being behind enemy lines here, presumably - the airforce super-troopers will have a bit of a problem. Generators and mains sockets may be a bit thin on the ground.
Not to worry , though - the Panther can be fitted with an optional solar-charging kit. Assuming "full sun" the vehicle will be ready to go another fifty miles in just five days!
Perhaps AFSOC want the Panther more as a self-mobile battery pack to power comms or other electrical kit. Rivers apparently says it can deliver "100 kilowatts of power for up to 15 minutes ... to power electric weapons or field hospital operations." Even so, assuming you really want a big battery and silent running, a hybrid like the planned "Aggressor" probably makes more sense.
As for civilian customers, providing one was willing to forgo offroad capability, $100,000 might be better spent on a Tesla Roadster - assuming that it overcomes any remaining technical hitches. It could even be worth waiting for Nanosafe-powered kit, which can potentially be charged up quickly at an industrial power outlet - rather than needing several hours to top off like Li-ion gear.
Or, you could say the hell with electric cars and get an Aston Martin or something. It isn't as though electricity is actually green - or, probably, going to be green during the life of your next car.®
*Disclaimer: Your correspondent was once a navy diver, and is not going to believe in the underwater expertise of airforce paddlers in a hurry. No doubt they're frightfully good at parachuting and so on, which will be very handy the next time America decides to mount a secret mission beyond helicopter/Osprey range. (Possibly a one way trip for the lads involved.)