Reg Technology Panel Over the past two or three years, zanily named social networking tools such as Facebook, LinkedIn, MySpace, Flickr and Twitter seem to have come from nowhere to wheedle their way into just about every aspect of online life, both in business and pleasure. Such facilities share a handful of simple, but powerful core features: each will enable information sharing of some form, will have some kind of community orientation and will be constructed in a way that several of the blighters can be merged (or should I say, "mashed up") into clever, multifaceted concoctions of collaborative capability.
But just how much of an influence are social networking tools having on corporate life? The press abounds with stories of how on the one hand, people power has been given a new weapon (as in the case of Facebook vs HSBC), while on the other hand, corporations are blocking access to what is obviously a distraction to employees (for example, HSBC. Spooky.) What's the answer? Dear reader, we have the answers, or at least you do. Hot off the analytical presses is the latest Register Reader Poll, which this time looked at such tools and the impact they were having.
We'll be digging into the data over the next few weeks, but before we do, it's worth acknowledging that the responses should not be read in isolation. The self-selecting nature of web polls means that we'll always get more respondents that are really positive about a certain area, than those that (frankly, my dear) couldn't give a damn. While we shouldn't spend too much time on the absolutes, however, there are some very interesting relative findings: particularly in home versus business use, for example.
Getting down to specifics, when we asked about the following social networking tools, we found that there was significant use across the board. Apart from the (obvious) conclusion that YouTube should indeed be getting a bit worried, there can be no doubt about how important these tools are in the lives of many of our respondents.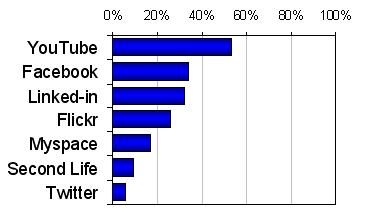 If we look just in terms of business usage, however, the picture becomes very different. Just thinking about the above tools, we see an order of magnitude difference in their use between business and pleasure – with the exception of LinkedIn, which is seen as a business tool. For this reason alone, whatever the pundits are saying, this casts serious doubt on the current relevance of (say) Facebook as a valid element of the business environment. Put bluntly, – if your staff are on Facebook, chances are they're interacting with their mates.
This doesn't necessarily mean that social networking is bad for business. To avoid drawing such a conclusion it is perhaps worth focusing away from specific incarnations of the social networking phenomenon, towards the capabilities they offer. Looking specifically at blogging for example, you have told us that 32 percent of you write blogs, while 64 percent of you are reading them. If we look at this from business or educational terms, those writing blogs drops to below 10 percent but those reading blogs holds its position at roughly 44 percent.
What can we learn from this? It would be simplistic to say that Facebook is bad for business and blogging is good, but the underlying message is that different tools may be adopted for different purposes and it would be counterproductive to tar them all with the same brush. "Different tools" doesn't have to refer to just social networking, either. There is a concern across the business community that the web-savvy business youth finds the modern business environment constraining, given that they are so used to this wealth of collaborative facilities, but this could be a red herring. To paraphrase, "The kids of today think they're the ones who invented collaboration!" but believe it or not, some very successful businesses were set up with nary more than paper and pen, never mind the telephone.
We'll be looking at age differences in collaboration in the next articles, but for now let's draw a quite grounded conclusion. Social networking tools may in some ways be new, but they remain just collaboration tools: they serve a useful purpose, in their place. It would be as much of a mistake to believe they are going to change the world, as it would be to reject them wholesale.
Whatever your situation, this is undoubtedly a fast-moving area. Whether you're someone who believes Facebook will never replace face-to-face, or whether your business has been transformed by such tools, we'd love to hear from you.