This article is more than 1 year old
Dell unveils Big Mike for iSCSI storage box party
We told you so
Hungry for some attention, Dell will bring out the Big Man for any old thing these days.
Take for instance the PowerVault MD3000i, Dell's new modular disk storage array featuring iSCSI support. Michael Dell himself was in San Francisco today to announce the new virtualization-friendly protocol option to the company's PowerVault boxes.
Maybe it's because VMworld is in town, or maybe he just wanted to get away from the accountants.
Dell painted the same picture we've seen from other vendors jumping into the iSCSI space in light of the virtualization gold rush. SMBs face inadequate storage, budget constraints and limited management skills, which make Fibre Channel little more than a pipe dream for them. Enter iSCSI, a protocol that works with a businesses' existing Ethernet networks and has virtualization-friendly technology.
"SMBs, you've been under-served," announced Dell.
The company line is simplicity. The MD3000i is designed to work for even the most inept IT professional. And the box is free from a "confusing set of options" and "hidden software costs" found in systems from the competition.
But of course we could have told you about the MD3000i weeks ago. And, in fact, we did. Twice. With all due respect to beating a dead horse (and keeping in mind we don't get paid by the word here) we'll just jump to the specs:
The MD3000i array comes in two varieties, the standard model and the high availability model.
The standard, obviously, is the lower cost system. It consists of a single controller with 512MB of battery-backed cache. It has two 1GB/s Ethernet ports for connecting up to two hosts directly, or up to 16 hosts when configured with an Ethernet switch.
The high availability version supports up to four 1GB/s Ethernet ports and has dual active/active controllers that mirror one another's cache (1GB). In the event of failure, the dying controller's LUNs are transfered to the surviving controller. Options continue, god is in his heaven, all is right with the world.
This model supports RAID levels 0,1,5,10. It has up to 30 physical disks per group and up to 256 virtual disks.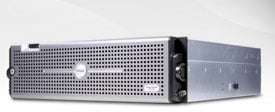 Dell PowerVault MD3000i
Both models hold up to fifteen 3.5-inch SAS hot-pluggable hard disk in a 3U form factor (SATA drive support will be available in Q4 '07). The minimum capacity per enclosure is 72GB using two 36GB SAS drives. Maximum capacity comes in at 6,000GB using fifteen 400GB SAS drives. Customers can get additional storage capacity by adding up to two MD1000 expansion units for up to 45 drives.
The boxes ship with Modular Disk Storage Manager, a Java-based user interface and multi-path software for failover management of redundant data paths between the host server and storage array. Virtual disk snapshot is available though optional software, which allows four snapshots per virtual disk and 128 snapshots per system. Also optional is virtual disk copy, giving up to eight simultaneous virtual disk copies and a total of 255 per system.
The MD3000i is available now, worldwide. Dell said a system supporting up to 16 hosts, snapshot and volume-copy software is available for under $10,000. ®