Expedition to hunt Amazon 'yeti'
Heart of barkingness
A team of cryptozoologists is headed for the South American jungle to track down a legendary apeman said to terrorise villages and tear out cattle tongues.
The Centre for Fortean Zoology (CFZ) has picked up sponsorship from a videogame firm to mount an expedition in Guyana in search of the Didi, also known as Mono Grande, reports Metro.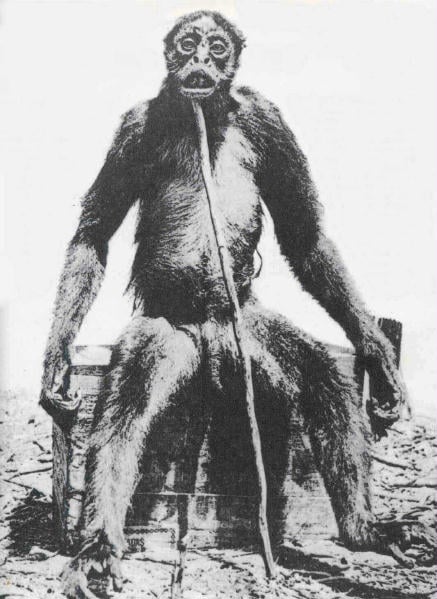 De Loys' muck-throwing "ape"
The Mono Grande myth was first recorded by Spanish conquistador Pedro de Cieza de Leon. In 1553 Cieza de Leon wrote that local people feared mysterious forest creatures they called maribundas. Alleged sightings continued to be reported by visitors to the north of the continent across the centuries.
The most controversial report came from Swiss explorer Francois de Loys in 1920, who claimed his party was attacked on a river by pair of five-feet tall apes walking upright and waving tree branches and throwing their own faeces. The explorers shot the female dead and photographed it (pictured), but were greeted on their return to Europe with counter claims that the picture was merely a spider monkey with its tail concealed.
The CFZ believes the Didi tales originate from a "living fossil" in the region: a surviving ground sloth that is assumed to have gone extinct 10,000 years ago. It's a more reasonable working hypothesis than any ape, since the highest primates known to have ever existed in South America are New World Monkeys. The expedition will head out in November.
Predictably, the web is infested with cryptozoology fanciers, though in fairness the field has a long history with some spectacular successes. African stories of the gorilla were widely assumed to be folklore until it was finally scientifically described in 1847. Indeed, at least 25 new primates have been discovered since 2000, including Bolivian native Callicebus aureipalatii, also known as the GoldenPalace.com monkey. ®