When is a thin client computer too thin?
According to Wyse, never.
In fact, the company envisions a future where thin clients get thinner and thinner to a point where they are free and disposable. Madness, you say? Well, they certainly seem to be headed that way.
But let's step back a moment. For those unfamiliar with the term "thin client," it's a device that doesn't store applications or configuration settings inside it. Sounds like a lot of things, yes? But what separates this device from — say, a brick or a shoe — is that it can use a server for processing activities, making the thin client primarily an agent of sending and retrieving information between the user and the remote server . It follows that such a device uses less circuitry, and thus costs less and uses a lot less power than a PC.
Today, Wyse is introducing the company's latest-and-greatest for VMworld at San Francisco. The line-up includes the company's new fastest desktop thin client, two full-power thin notebooks, and new multimedia software for virtual desktop environments.
Let's start at the top of the list:
V class LE thin computer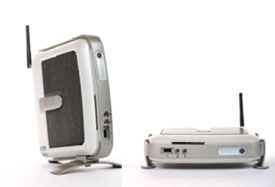 Wyse V class LE Thin Client
The new Wyse V class LE Thin Client is a device for virtual desktop environments using VMware VDI, Citrix or Microsoft. The client is Wyse's speediest offering, powered by a VIA Eden C7 processor running at 1.2GHz. It uses only 13 watts of power, has no fan, and is therefore silent. The ports include dual video output, audio, USB2, PS/2, Serial, and parallel. There's also an option of adding PCMCIA, Smart Card and WiFi. Customers can choose a zero client configuration for use with Wyse provisioning software, or with a minimum of 128MB Flash or DDR2 RAM to support Windows CE, Windows XP embedded or Linux.
The device will be available in September at $480 (without a monitor).
X90 and X90e thin notebooks
As a portable alternative, Wyse is releasing the X90e and X90 Thin Notebooks. The laptop has no local HDD, which eliminates the safety concern if it is lost, broken or stolen. Both models match the desktop device CPU speed with a VIA c7-M ULV running at 1.2GHz, and weighs in at only 3.8 pounds. The screen is a 12.1" LCD with `1280 x 800 resolution. Wyse said the battery life clocks between 5-7 hours.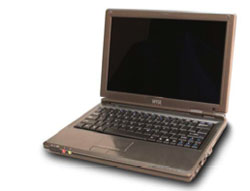 Wyse X90 Thin Notebook
Wyse claims the laptop will function anywhere an internet connection is available with the exception of an airplane. The company said they will solve that problem with an upcoming announcement, but won't say any more.
The X90 includes WiFi, video, internal and external audio, USB2 and Express slots. Upgrading to the X90e adds Smart Card and Bluetooth 2.0. The devices are zero client compatible, but have Windows XP embedded for disconnected use.
The notebooks are available now, with intro pricing at $600 for the X90 and $650 for the X90e. Both prices will be raised by $100 after October 31.
Wyse TCX Multimedia
Wyse's new multimedia software extensions enable new and existing thin clients with 800MHz and faster CPUs to better display multimedia. The software, available for VMWare VDI, Citrix and Microsoft accelerates Mpeg1, Mpeg2, WMV, MPEG4 Pard2, XVID, Divx, AC3, AAC, MP3, WAV, WMA media types. It also offers full screen and full frame rate capability to raise the bar closer to PC levels. According to Wyse, VMware likes the software so much its shipping standard with their ESX Server 3.02 software.
The software is available now, at $25 per client. ®