At the Toyshop of Doom
DSEi - toys for the homicidal boy
---
Pictures Today sees the opening of DSEi, the UK's biggest weapons and kill-tech trade show. The whole ExCel centre in the Docklands is full of exhibitors showing off their guns and gadgetry. The place is packed with generals and admirals looking to snap up the latest must-have piece of kit.


You like guns? We have many. Also, portable compression chambers in case you get the bends.
Lots of people, needless to say, reckon that making stuff for fighting and killing with is just plain wrong: and indeed Reed, the operators of DSEi, are looking to sell the show off to someone. But they say that's just because it doesn't really fit with their core business, not because it involves nasty yucky guns and stuff.


Suits you, sir. Go on, feel it. Feel it, sir. And robots? But of course, sir.
Here on the Reg killer-robot desk, we take a more nuanced view of death tech.
We're against scattering cluster bomblet submunitions in school playgrounds as much as the next chap. We don't like paying triple price for kit that arrives late and doesn't work any more than any other taxpayers. Often we wonder whether we actually need a lot of the shiny exploding stuff the government buys on our behalf - the more so at a time when it pays combat soldiers about half what it does a fireman. We're not happy with how things are in Iraq, either. But we thought the Falklands was adequately righteous; and Afghanistan, Sierra Leone, Timor, Gulf War I etc.


How about a stealth corvette? Scandinavian quality. And HUDs - not just for fighter pilots any more.
And, shamefully no doubt, we like a really big explosion - along with plenty of other action-movie fanciers. We like hardware that does cool things. Not to put too fine a point on it, some of us quite like guns. And we especially like digital gadgets - even if we sometimes doubt their usefulness. (Well, this is the Reg.) Digital gadgets attached to guns? Even better.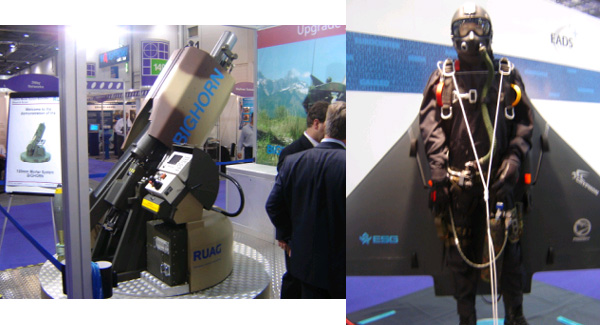 Bighorn - for when a small horn just won't do. And you know you want one of these wing things (article to follow).
So we're actually pretty chuffed to be at DSEi, and we'll be bringing you lots of military gadget coverage over the next few days. As a taster, here are a few snaps from around the halls. ®