Palm and Vodafone have, as expected, just announced the Treo 500v, a 3G smartphone aimed at the YouTube and MySpace generation and which sports Palm's curvy new handset design in iPod-like white and black versions.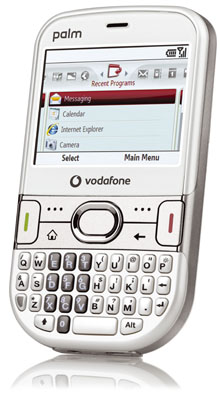 Palm's Treo 500v: iPod-inspired?
The handset - codenamed 'Otto' - is based on Windows Mobile 6 Standard and, as per the recent leaks, incorporates a two-megapixel camera - with a 2.5x digital zoom - on the back. But despite being a 3G UMTS handset, there's no front-mounted cam for video calls. Alas, it's not an HSDPA device, so no fast downloads.
The rumours had pointed to 150MB of built in Flash memory, and they were proved correct, though that's the user space - the handset has 256MB of Flash in total. The 500v also has a Micro SD memory card slot. It has Bluetooth too - version 2.0 with EDR for faster data transfers, and with "mono and stereo headset" support.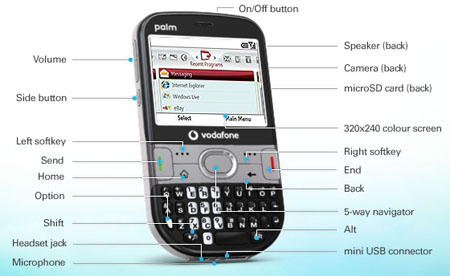 Palm's Treo 500v: the details
The 500v's screen has a full 320 x 240 resolution - other Windows Mobile Palms have 240 x 240 displays - but is capable of showing only 65,536 colours, putting it behind the smartphone curve.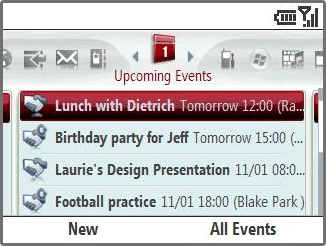 Palm's Treo 500v: the menu screen
The handset comes with all the usual Windows Mobile apps for viewing Office documents, checking email, surfing the web, watching video and listening to music. However, Palm has built on the standard WM Today screen with a new front end of its own that provides a slide-along top-of-the-screen menu bar for easy access to applications and phone functions.
The new design measures 11 x 6.2 x 1.7cm and weighs 120g with the 1200mAh removable battery on board. Palm claimed the device rates up to four-and-a-half hours' talk time and will run on standby for ten days.
Vodafone said the 500v will be given away for free with certain airtime packages. It didn't say how much the phone will be otherwise.