DSEi Here at the DSEi killware show there's a constant parade of robots: crawling, flying, swimming or just sitting still and killing people who walk past. It's relatively difficult for a jaded deathmech hack to muster up much interest... sometimes.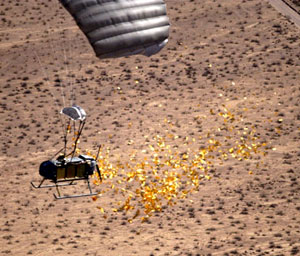 Robot motorchute leaflet dropping. It was inevitable, really.
Now and again, though, you come across something a little bit out of the ordinary - an actual clever notion.
Such a thing is SnowGoose - a flying robot with a difference. Its makers, Canadian company MMIST, were and are suppliers of satnav-guided parachute packs for air-dropping supplies. You strap one of their "Sherpa" GPS-guided parachutes to a pallet of cargo, push it out of a plane at high altitude, and the load flies itself down to land within 100m of where you want it.
Apparently, the US forces' psychological-ops teams were using Sherpas to deliver leaflet drops. Simply chucking leaflets out of a plane at height isn't very effective - the leaflets get caught by the wind and float away to Lord knows where. But you don't always want to fly low over places like Afghanistan. Hence the use of guided chutes.
But each Sherpa costs $20k or so and, in the case of leaflet drops, you don't get it back. Of course, $20k is the same sort of price one pays for a smart bomb - chickenfeed to the mainstream US forces. But the psyop lads don't have a mainstream-type budget.
"They asked us: 'Can you make them come back?'" said Ron Campbell, chairman of MMIST.
"So we came up with SnowGoose."
SnowGoose is essentially a motorised robot parachute, a bit like an automated sports paramotor. It adds a petrol Rotax engine and propellor to the GPS guidance and parachute and, after dropping its load, it will then happily fly away hundreds of miles to home base on its own.
Though designed for air drop, Campbell told the Reg that, in fact, more than 90 percent of SnowGoose operations in the field are launched from the ground. This requires no more than a small team of soldiers and a truck or Humvee to get the canopy up to flying speed. The SnowGoose has taken on many other missions besides leaflet dropping, and is highly prized by the US spec-ops community in Afghanistan for its simplicity and relative unobtrusiveness - as compared to a helicopter, say.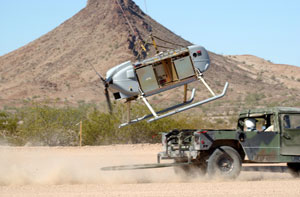 Normally launched from a truck, not a plane.
The SnowGoose is apparently used routinely to resupply US spec-ops teams lurking in the Afghan boondocks.
"It'll fly in, drop off a couple of hundred pounds of batteries, and fly out," says Campbell.
"Maybe some food and water, too, but mainly batteries. God knows what those guys have out there, but it's power hungry."
Apparently MMIST will do you a pair of SnowGeese and support kit for a tad under a million bucks (US), and it can normally be repaired and maintained in the field by ordinary soldiers, rather than needing a base and lots of skilled technicians. That's very cheap and easy to operate for an aircraft that can carry quite useful payloads, and Campbell says that MMIST might offer an even simpler diesel-powered job in future.
Other options apart from cargo modules include propaganda loud-speakers and FM radio broadcast, radio-relay equipment, meteorology payloads and relatively ordinary satcomms-connected spyeye rigs.
Can it carry people?
"That's the first thing that everyone asks," says Campbell.
"It's not supposed to, but these guys get in some situations. It could happen if the alternative is worse."®