Asus has gone public on what it claims is the world's first mainstream laptop - a machine not intended for specialist use, in other words, with GPS technology on board.
The U3S is a 13.3in widescreen machine based on Intel's Centrino Duo platform. It's got a piano black lid, a magnesium alloy chassis, stainless steel trim and leather palm rests. The 1280 x 800 screen has a 1.3-megapixel webcam, and the graphics come courtesy of an Nvidia GeForce 8400GM chip with 128MB of video memory. There's an HDMI port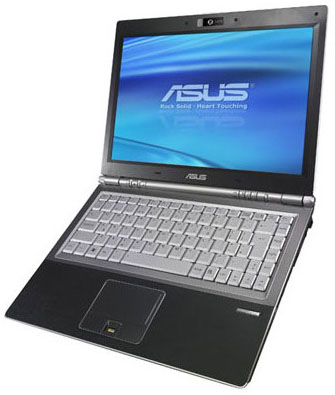 Asus' U3S: GPS on board
Expect Asus to fit out the laptop with a range of Core 2 Duo processors, at least 512MB of 667MHz DDR 2 memory and 100-160GB of SATA hard drive storage. There's an optical drive too, but its an external, USB-connected unit. There is an eight-in-one memory card reader on board.
There's a choice of 802.11a/b/g or 802.11n Wi-Fi. Bluetooth 2.0 is optional, but Gigabit Ethernet comes as standard.
And so does GPS, along with special firmware - NXP Software's swGPS Spot - to handle position fixing, something that might usually be done with hardware, but here is not, in order to "save board space". And money, presumably.
Asus said the U3S would come with satnav software, but declined to name which navigation package will be included. The company indicated the GPS system could be used not only for navigation but also for locating a stolen machine.
The U3S is expected to arrive in the UK at the end of September, priced at around £1599 ($3243/€2335). It comes with Windows Vista.