Welcome back to the top of the world games console totem pole, Nintendo - for next-gen machines at the very least. Sales data suggests that to date 9m Wiis have been bought, to 8.9m Xbox 360s and 3.7m PS3s.
The figures comes from the Financial Times and echo the claim made last month by little known market watcher VG Chartz that Wii sales had eclipsed those of the Xbox 360, its nearest next-gen console rival.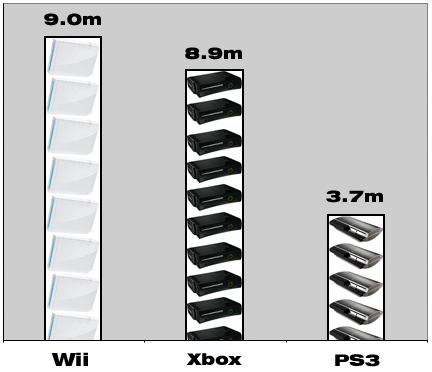 Next-gen console sales: the FT numbers
The numbers quoted by both sources don't match, but then they rarely do in the market statistics game. The FT cites Japanese figures from local publisher Enterbrain, European numbers from GfK and US totals from NPD.
VG Chartz put the Wii, Xbox 360 and PS3 on cumulative sales of 10.57m, 10.51m and 4.32m, respectively.
The values may differ but the relative positions are identical. The FT's figures are likely to be more accurate simply because they're based on locally culled data, rather than the broader statistical estimates VG Chartz produces.
Sponsored: Webcast: Ransomware has gone nuclear