Cassini reveals two faces of Iapetus
Weird black and white moon
---
Cassini has sent back a mountain-load of work for its mission scientists, having shot literally hundreds of pictures of Saturn's moon Iapetus on its fly-by this weekend.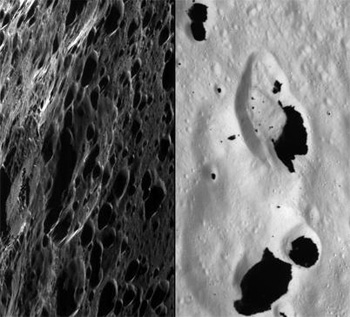 The pictures show the stark contrast between the moon's two hemispheres. One is described as being as black as tar, the other as white as freshly fallen snow. They also reveal new detail of the 12-mile-high mountain ridge that runs around the moon's equator.
"Every new picture contained its own charm," said Tilmann Denk, Cassini imaging scientist at the Free University in Berlin. "I was most pleased about the images showing huge mountains rising over the horizon. I knew about this scenic viewing opportunity for more than seven years, and now the real images suddenly materialised."
Cassini swung by Iapetus this weekend, passing within 1,640km of the surface. The data stream's journey home was delayed thanks to a "galactic cosmic ray hit", which meant mission managers had to power down Cassini and put it into safe mode. Once the storm had passed, normal operations could resume.
"There's never a dull moment on this mission," said Bob Mitchell, Cassini program manager at NASA's Jet Propulsion Laboratory. "We are very excited about the stunning images being returned. There's plenty here to keep many scientists busy for many years." ®