Galaxy-hunting astronomers at the European Southern Observatory (ESO) have turned up 14 previously undiscovered starburst galaxies, thanks to a new searching technique.
A starburst galaxy is one in the throes of rapid star formation. The team says some of the galaxies are spawning new stars at a rate of 20 suns per day.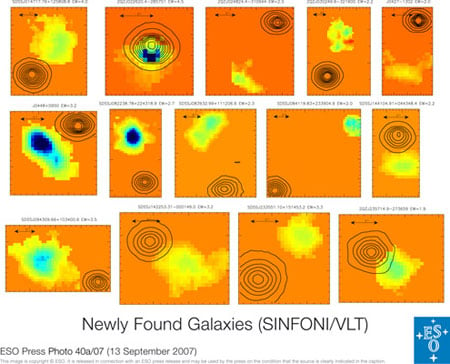 Newly Found Galaxies (SINFONI/VLT)
To find the galaxies, the team went looking armed with a catalogue of quasars. A quasar is an extremely bright and distant object. Observed from Earth, sometimes their emissions seems to dip, suggesting that something rather large has blocked our direct line of sight, albeit briefly, and absorbed some of the quasar's radiation.
The team scanned the catalogues looking for dipping quasars. Twenty quasars with these dips in brightness made it onto a shortlist for further investigation. Of these, 14 turned out to have galaxies between us and them.
But that further investigation is no mean feat. "The difficulty in actually spotting and seeing these galaxies stems from the fact that the glare of the quasar is too strong compared to the dim light of the galaxy," says Nicolas Bouché of the Max Planck Institute for Extraterrestrial Physics, in Germany.
To untangle the light of the quasar from the light of the galaxy, the team used the ESO's VLT and SINFONI. SINFONI is an infrared integral field spectrometer that "simultaneously delivers very sharp images and highly resolved colour information (spectra) of an object on the sky", the team explains.
"This high detection rate alone is a very exciting result," says Bouché. "But, these are not just ordinary galaxies: they are most notable ones, actively forming a lot of new stars and qualifying as 'starburst galaxies'."
The team says the high detection rate is particularly exciting because it suggests SINFONI will be a very useful tool in locating new galaxies to study. For now though, the researchers plan to use SINFONI to probe deeper into the galaxies they have already found, rather than casting their net wider in the hope of catching other specimens.
The work is published in the Astrophysical Journal The SINFONI Mg II Program for Line Emitters (SIMPLE): discovering starbursts near QSO sightlines, N. Bouché et al. ®