The Northwest Passage, a much-sought shipping route, opened to sea traffic this summer, as arctic sea ice fell to the lowest levels observed since we started keeping track almost 30 years ago.
Pictures of the open sea were captured by European Space Agency satellites.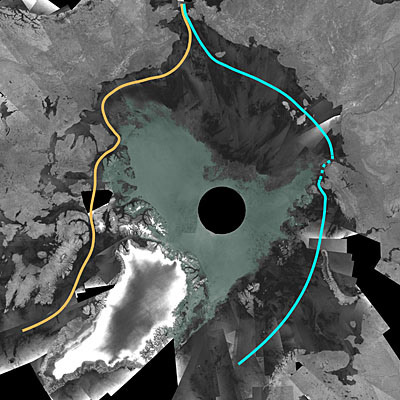 Satellite image showing the clear seas of the Northwest Passage. Credit: ESA
The passage has been traversed by armoured ice-breaking vessels, but until now has not been sufficiently clear of ice to permit commercial traffic.
The sea ice cover is naturally greater in the winter, falling back in the summer. Since 1978, when researchers stared monitoring the ebb and flow of the ice in the region, it has broken up more and more quickly each summer, although enough ice remained to leave the passage impassable.
The previous minimum was in 2005/2006, when the sea ice coverage dropped to four million square kilometres, although the Northwest Passage remained closed. This year, scientists say there was just three million square kms of ice through the summer months.
It is the suddenness of the drop – a million square kilometres in a year – that has sparked comment. "There has been a reduction of the ice cover over the last 10 years of about 100,000 square km per year on average, so a drop of one million square km in just one year is extreme," explains Leif Toudal Pedersen from the Danish National Space Centre.
The long-sought shortcut between the major land masses of the North, linking the Atlantic and Pacific oceans, has already sparked rows. Canada has claimed rights to the passage, but the US and the UK (unsurprisingly) say the route should be open to international shipping.
The image above is a mosaic of over 200 individual snaps taken by the Advanced Synthetic Aperture Radar instrument aboard ESA's Envisat satellite. The dark grey represents clear water, while sea ice is colour-coded green. ®