This article is more than 1 year old
Thrustmaster unveils Wii peripherals kit
Whoopee Wii
Gaming peripherals manufacturer Thrustmaster claims to have created the world's first programmable and vibrating wireless gamepad, which is also compatible with GameCube and Nintendo Virtual Console games played on the Wii.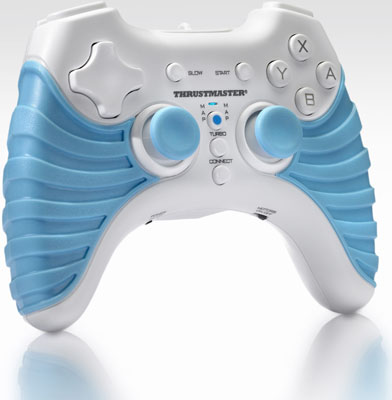 The T-Wireless NW: will Wii fans love it?
Dubbed the T-Wireless NW, the pad operates on 2.4GHz wireless technology, as does the Xbox 360 Elite's Wireless Controller. However, the NW pad's wireless range is 32 feet, which is two feet greater than said Elite's working range.
It also includes mysterious slow and turbo buttons. Thrustmaster said the slow function deliberately slows down gameplay to give users more time to respond, say, to a rampaging bullet and the turbo button is essentially a macro recorder that enables users to perform multiple-key combinations with a single button.
Another nice feature is that gamers are able to reassign the entire pad's buttons, ministicks and the D-pad to get away from the pre-assigned controls and have a more customised gaming experience.
The pad's design mixes aesthetics from both Microsoft's Xbox 360 controller and the Playstation's SixAxis pad, with the addition of rubber grooves down either side that may help gamers get a better grip on the controller during frenzied gameplay.
The T-Wireless NW is available now in the UK for £20 (€25/$40).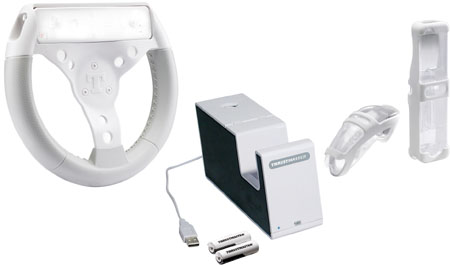 Thrustmaster's T-Mega pack
The manufacturer has also created a five piece T-Mega pack NW gaming pack for Wii gamers. The most interesting feature of this is an all-white gaming wheel, which docks the Wii controller into a horizontal slot to recognise left and right-hand turns. The wheel is covered in white rubber for grip and has small stitch marks around the inside to make you think you're driving a hand-built Ferrari...well, kinda, sorta.
Protective covers for the Wii nunchuck and controller are also thrown in. Both are cast from 0.2cm thick silicone and supposedly help gamers suffering from sweaty palms to gain a better grip and protect either controller if they're dropped, thrown or kicked.
Thrustmaster has also included a white lacquered recharging base for both types of controller, which looks a little over the top, but should sit nicely next to your Wii. Oh, and finally, the fifth item in the pack is a pair of rechargeable AA batteries.
The T-Mega pack NW is also in the shops now and will set you back £30 (€35/$60).