This article is more than 1 year old
World of Warcraft smites den of orc and elf sexual delinquency
Is that a vorpal sword in your pocket or...?
Nothing ruins a quest to smite the dreaded Talon Lord of Sethekk Halls like seeing an troll and an orc simulating childbirth and peeing on each other.
No, really - this is a problem. At least for Blizzard Entertainment, who must arbitrate over such unusual circumstances in the astoundingly popular massive multiplayer role playing game, World of Warcraft.
The software firm has forcefully disbanded an erotic roleplaying guild accused of engaging in extreme sexual situations without verifying its members are 18 or older. The story comes way of WoW Insider.
The guild, called Abhorrent Taboo on WoW's Ravenholdt server, attracted gamers through its participation in Erotic Roleplay (ERP). In the case of massive multiplayer online games, this usually involves grinding avatars together to simulate sexual encounters and erotically-charged text chatting. In large, exposure to unsolicited ERP is extremely limited and is something WoW users generally tolerate, although with a fair amount of skittishness and deprecating chuckles, as kinks often are.
The nature of this particular beast has raised red flags since its creation. From Abhorrent Taboo's welcome post on the WoW forums (since deleted):
"NOTE: Be advised that we frequently ERP in guild chat and often engage in even potentially offensive kinks such as (Extreme) Ageplay, Bestiality, Child Birth, [something censored by the WoW forums], Watersports, or any other kink those playing may wish to explore."
Abhorrent Taboo claimed that it restricts guild membership to adults over the age of 18, but detractors say they have no way of verifying this in a video game. Furthermore, the concept of simulated pedophilia in the guild - even if both parties are actually adults — skirts into territory many consider...well, an abhorrent taboo.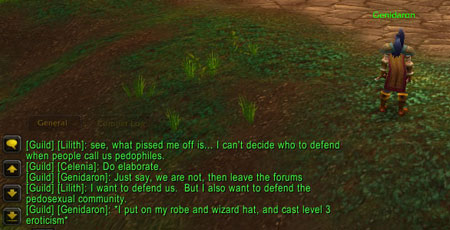 A WoW user claims this screengrab comes from AT's guild chat
"Lilith", the guild leader's avatar, expands on "ageplay" in another post on the WoW forums.
"So our numbers have nearly recovered from the mishap we had earlier this month, but we've found ourselves strangely lacking in Ageplayers. Specifically, we've got a few six and seven year old characters of both genders running around and no grown-ups or other children to play with them.
No matter if you like to play a very young character or if you just like to play WITH them... Abhorrent Taboo wants you!"
Perhaps twice shy about the outrage over its handling of a GLBT guild, Blizzard has tried to avoid actions against Abhorrent Taboo despite outrage on the official forums. Supporters claim the guild should be free to play the way they want to, and that their actions are purely fantasy, with no children actually involved.
But Blizzard blind eye has recently come into focus. The firm has shut down the guild and warned its users. They are also apparently asking to keep things quiet.
From the WoW forum:
This topic is no longer suitable for conversational purposes. We understand there is immense interest in this subject due to the changes that it may cause on your server. However, this matter is not one Blizzard takes lightly in any way, shape or form, and we do not wish to have this topic continue circulation.

Those who were part of the offending guild should not post information sent to you on this forum or any other, as it is prohibited by our forum rules to discuss such matters.

Let it finally be said that we appreciate those of you who brought this particular issue to our attention and that we will continue to follow up with this matter in the future to ensure the safety of all parties concerned.
Whether you side with Blizzard or not, the action isn't going to end the matter. The guild has reportedly already reformed as Vile Anathema on the server. Considering the litigation risks of such so-called adult guilds, Blizzard may be forced to do more about protecting minors from unwanted exposure in a teen-rated game. ®