British gamers hoping to get their paws on a special edition of the upcoming Halo 3 are set for a big disappointment. Microsoft has confirmed that all Legendary Edition versions of the game allocated to the UK have already been snapped-up through pre-order, and almost all its Limited Edition version reserves have been reserved too.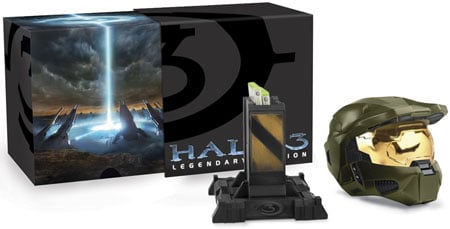 Halo 3: The Legendary Edition kit, including Spartan helmet
The game is due to be released in the UK on 26 September. The Legendary Edition package includes a copy of the game and a selection of DVD extras, such as documentaries and storyboard art, and a Spartan helmet. The Limited Edition set includes a hard-bound Halo 3 book and the game, but not the cool helmet.
Microsoft's rep said only limited quantities of the Legendary and Limited Editions were ever made available for the UK.
If you're just interested in the game though, then don't panic. The spokesman attempted to calm UK gamers by promising that the standard edition won't run out because it's in constant production. Oh, thanks guys.
Anticipation surrounding the upcoming game is reaching fever pitch and Microsoft has been quick to capitalise on it. It's been rumoured that the company has spent around £4m marketing it and has already created a special edition Halo 3-themed Xbox 360 console to help catch your attention.
Last month, Register Hardware also reported that Halo 3 pre-orders had reached one million copies in North America alone.
Sponsored: Ransomware has gone nuclear