This article is more than 1 year old
Jobs hits London to announce O2 iPhone deal
Steve claims 3G is a battery drain
Apple has finally confirmed that O2 has won the exclusive rights to carry the iPhone over its UK network from next month. Steve Jobs made the announcement at its flagship UK store in London this morning.
The firm added that the must-have handset will also be available from Carphone Warehouse, in addition to Apple and O2's own stores.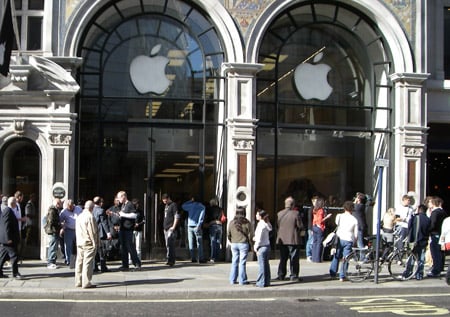 Hacks await announcement of the worst kept secret in history
The Jesus Phone will be available on O2's network from 9 November. The 8GB handset will cost UK consumers £269 (€386/$536), slightly more than it retails for in the US following recent price cuts. However, O2 has agreed to give Apple 40 per cent of its earnings on the handset, but its the customers who will ultimately foot the bill.
Anyone looking to grab the handset will have to sign up to an 18 month O2 contract, with price plans at £35 (200 minutes and 200 texts), £45 (600 minutes and 500 messages) and £55 per month (1200 minutes and 500 texts. All the plans include 'unlimited' data transfers.
The UK iPhone, like its US counterpart, doesn't have 3G capability and will instead operate over O2's GPRS and Edge networks. However, reports from those privileged to be present state Steve Jobs claimed that 3G negatively affects the handset's battery life and that an enabled model shouldn't be expected to appear until next year.
So will it be worth it? Is the gadget of the year worth all the inevitable queues on 9 November, monthly subscription costs and an extremely long contract? Would you switch networks just for a handset? We don't know, as Apple had black-clad, burly security guards on hand to keep out the likes of Register Hardware reporters, but we'd love to know your thoughts...