Reg Technology Panel In a recent article we reported on how social networking tools were having an increasing impact on corporate life - for better or worse! No doubt the debate will run and run, and no doubt, like so many new technologies (the Web, anyone?), we shall arrive at a happy medium where such tools become part of the business fabric.
In the meantime, there's an interesting question that comes out of the social networking. Given the increasing range of tools and technologies available to us that require some kind of internet connection, from the aforementioned to such things as blogs and email, just how important is it for us to stay connected?
According to our Reg research panel, the answer to this question is telling. Remember, we need to keep in mind the caveat that people responding to surveys about online collaboration, are potentially going to be the people who are more interested in having some kind of connection. Even so, the number is high: almost exactly 50 per cent of respondents told us they need to have some kind of connection wherever they are. Of these, nearly 20 per cent claim to need an always-on connection to support their collaboration habit. Even in the worst case scenario, in which only people that had any interest at all in online collaboration capabilities participated in the study, that's still quite a proportion.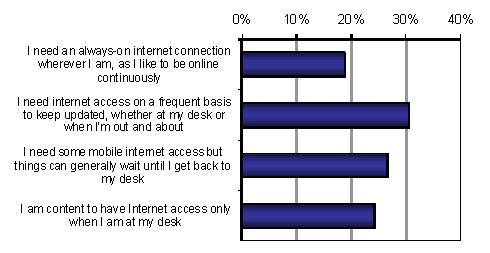 There are several potential explanations for this.
Yes, it could be argued that collaboration is of direct benefit for business reasons, and therefore, this is all about people being able to do their jobs better; however, and as indicated in the last article, the evidence does suggest that much use of such tools is equally for pleasure alone (that is, if receiving an electronic message that claims to constitute a tequila sunrise can be categorised as "pleasure").
The productivity angle is worthy of debate - not least because the social aspects of the business environment are a necessary element. Anecdotal evidence suggests that home and remote workers miss out on the "watercooler" experiences of their head office colleagues, so it could be that social networking tools fill a necessary gap. Might it also be that as people become accustomed to such a diet of information, they might suffer some kind of withdrawal if it was taken away?
We don't have an answer to that question from this data set, but it's worth keeping in mind, particularly if we consider what is the constituency that is most affected. The "always-on" average might be 19 per cent but in the sub-25 age group, the figure rises to 27 per cent. Given that the figure stays pretty constant above 25, this does suggest that it is more than a factor of age; note also that the overall percentage for people that need more frequent internet access remains relatively constant across the age ranges, at about 50 per cent. Within this group we are seeing a generation forming whose habits are based on the existence of collaborative technology. Not all are choosing to adopt it, but for a growing contingent of young people certainly, switching off is not an option.®