IDF Intel today re-iterated its plan to squeeze an entire handheld web tablet's system chippery into a single slab of silicon, but it make a fresh pledge: to cut the chip's idle power consumption to a tenth of what it expects next year's multi-chip platform to use.
The SoC is 'Moorestown', which Intel announced six months ago at its Spring IDF. In addition to an x86 processing core derived from next year's 45nm 'Silverthorne' CPU, Moorestown will have an on-board GPU, I/O controllers and so on.
All these elements will be in next year's 'Menlow' platform, made up of Silverthorne and the 'Paulsbo' chipset. The upshot of bringing them all onto a single die and using a 32nm process technology to fabricate the chip will reduce Moorestown's power consumption to a fifth of what Menlow will use, Intel forecast back in May.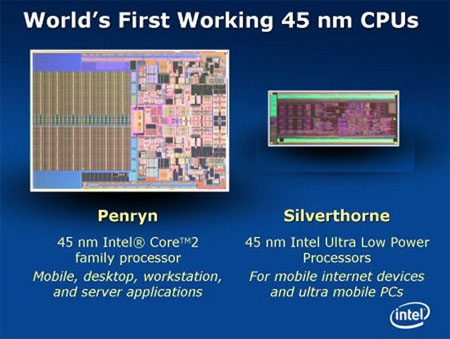 Intel's Silverthorne: small die
That's when both products are running flat out. But a lot of the time they won't be, and that's where the move to slash idling power consumption comes in. Cutting Moorestown's idle power consumption to a tenth of Menlow's should boost stand-by battery lifespans considerably - though not necessarily by a factor of ten.
Intel has said in the past Moorestown will arrive in the 2009/2010 timeframe, and it said nothing to contradict that forecast at IDF this week. Menlow remains - officially - on track for an H1 2008 introduction, but Intel Mobility Group chief Anand Chandrasekher let slip that it'll actually come through in Q1 2008.
Intel has signed a stack of Taiwanese hardware manufacturers, including HTC, Compal, Asus, Inventec and Quanta, but it's also picking up brands more familiar to consumers, like Samsung, BenQ, Fujitsu, Hitachi, Lenovo, Panasonic, Toshiba and LG.
Sponsored: Ransomware has gone nuclear