If you've ever been frustrated enough to consider throwing your digicam across the room, then you'll be pleased to know that you now can. A designer has created a concept camera that's actually designed to be used while being flung around, suspended or even kicked.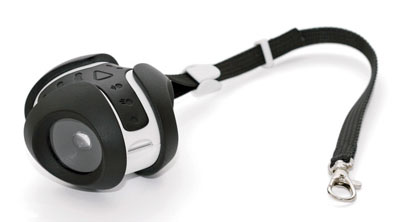 Triops: turns point and shoot camera onto their heads
Designer Franziaka Faoro's Triops digital camera is equipped with three protected fisheye wide-angle lenses and can actually take images while it's being thrown, hung-up or placed in other unusual situations. Our first thought was to drop it in a fish tank, but Faoro doesn't mention if it's waterproof.
There's no need to set a self-timer and then throw the camera, because it snaps images in response to sound or movement and both sequential and panoramic style photographs are possible. Of course, the camera is heavily encased in a protective material – but that shouldn't stop you from finding out what it's like to be the football during a little kick around.
Images can be wirelessly transmitted to a separate display unit and the camera has already won an international design award.
It's still a concept at this stage, but if it does ever go into production then Register Hardware would love to review it.®