LG has announced a desktop PC that supports both high definition (HD) formats. The LX97WH has been unveiled in Korea and packs a combi drive allowing users to read discs in both the HD DVD and Blu-ray format.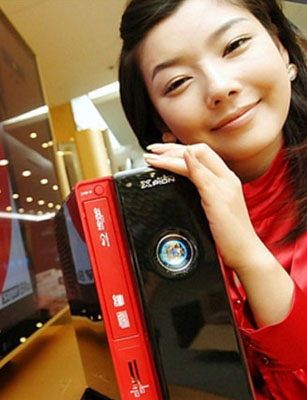 LG's LX97WH: One happy customer?
The PC itself, thought to be called the LX97WH, has got an Intel Core 2 Duo 2.33GHz CPU, with 2GB DDR2 memory that's clocked at 667MHz. It also includes a 512MB nVidia GeForce 8500GT graphics card and a 320GB hard drive. This all sits within a red and black slim line case.
Rumours first surfaced back in July that LG was preparing to launch an internal optical drive capable of reading both Blu-ray Discs and HD DVD media.
There's no information about pricing or availability on hand at this point, so watch this space...®
Sponsored: Webcast: Discover and secure all of your attack surface