Nokia has launched a mobile phone for business users who never have enough time on their hands. The E51 handset sports most standard multimedia capabilities, but also includes dedicated short-cut buttons for key functions and connects up to corporate telephone networks.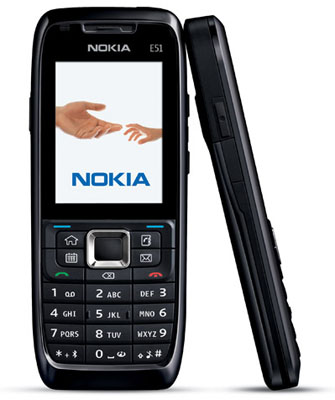 Nokia's E51: similar looks to many existing Nokia phones
The E51, which sits atop the existing E50 handset, looks pretty basic at first glance - especially in light of Apple's UK launch of the iPhone. However, Nokia claims the short-cut keys around the main menu button will help save users some time by directing them to key applications, including email or contacts, in a single click. Although this is nothing new, the keys seem slightly more prominent than they do on existing Nokia handsets, such as the N70.
The handset can connect up to what Nokia describes as "corporate telephony networks", allowing calls through switchboards to be routed to your mobile. Set-up wizards are also built-in to help users set-up, say, their email accounts. VoIP calls are possible using the handset's Gizmo application.
All work and no play makes for a dull handset though, so Nokia has also thrown in a two-megapixel camera, FM radio, and a music and video player.
Nokia's E51 will be available in Europe during the fourth quarter of 2007 for €350 (£300/$600).