Review No sooner does DAB establish itself as the radio format of the future, than internet radio begins tapping it on the shoulder and trying to muscle its way past.
Once upon a time, DAB was a genuine mainstream proposition as long as internet radio remained tied to PCs and Macs. Those days are over - products like the Noxon look, feel and act like a real radio while setting free the real potential of internet content.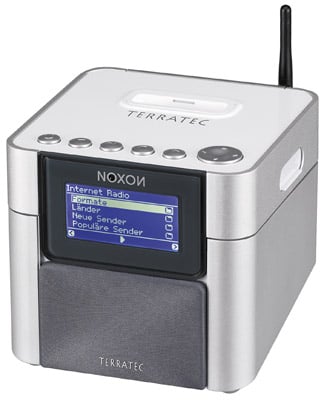 TerraTec's Noxon 2: just like a real radio
This is an important step in the development of the format. Radio fans are a finicky lot. They do embrace new technology, but only when it's wrapped up in a traditional package.
The Noxon isn't perfect, but it does deliver a real generational leap in radio listening, in an easy-to-use package. It has a regular FM tuner on board, and the performance is OK. It doesn't have the best reception we've ever heard from a table-top radio, but the sound is made richer by the unit's down-facing sub-woofer.
This is a really welcome addition to the product as it delivers a big boost to the sound across all the Noxon's sources, particularly when it's dealing with digital signals.
If you need to boost the volume a bit, say for a party, the unit splits into two pieces with the head piece able to connect to a hi-fi.
Overall, the unit produces a surprisingly rich and big sound. The machine also copes well with more complex jazz or classical feeds as well as the more common pop or talk stations.
FM set-up is very fast. The machine's search wizard stored 20 stations in a couple of seconds and switching between them is very fast. The unit also comes with the now obligatory iPod dock - fridges will soon be supplied with these, we're sure. Operation is straightforward: plug Steve Jobs' best friend into the top and the machine's own remote control takes over as the navigation tool. The iPod is charged even while the Noxon is switched off.
Non-iPod users - yes they do exist, just ask Sony - are not forgotten. There's a recessed USB port for an external drive on the side.
Controlling the Noxon takes a bit of getting used to. Instead of a central button to select different features, there's a four-way directional button, and functions are selected by pressing the right-pointing button when you've navigated to the correct menu option, iPod-fashion. Once we got used to this it actually felt quite logical and intuitive, but Terratec could have put the control in front of the display, rather than on top of the box.
The Noxon comes with a remote, which is a good size and possessed of useful shortcut buttons to the unit's main functions.