This article is more than 1 year old
Welcome indeed to the billionaire toyshop
Expensive toys for very rich boys
Option Four: Air Yacht – Conceivably as little as £30m
Frankly, if we were a billionaire we probably would have a submarine yacht, but at just £40m there'd be plenty of cash left burning a hole in our pocket. Also, as we've seen, submarines do have the potential for boring views and a slightly claustrophobic atmosphere aboard. It might be nice to have a flying palace rather than an underwater one.
Once upon a time, this was a genuine ready-to-go option. In the 1930s, there were established builders making enormous rigid airships filled with lifting gas, either hydrogen or helium. Some of these ships operated as quite luxurious passenger liners; others were naval or military craft. They were much bigger and more capable than today's poxy little inflatable blimps.
In particular, two very pleasing ships were built for the American navy: USS Akron and Macon. Unlike the famously flammable Hindenburg, they were full of nice safe helium*. These mighty aerial vessels carried crews of 90, and were effectively flying aircraft carriers. Each of them had space for up to five Curtiss Sparrowhawk biplane fighters in the internal hangar bay, and the planes could be launched and recovered in flight using a retracting "trapeze" arm.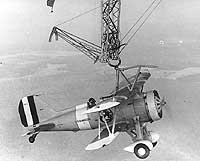 A biplane hooked up to the airship USS Macon.
This kind of capability would seem to offer options for an airborne Octopus-style megayacht, able to deploy a variety of craft such as planes, gliders, microlights etc. Helicopters could be a bit more tricky, but it would be far from impossible to mount a Sparrowhawk-style "Skyhook" above the rotor hub of a helicopter. Military choppers already put large radars and sensors up there. It would then be simple to nip down to visit a friend's dull old gin-palace or private island in a helicopter or perhaps a seaplane launched from one's sky yacht.
An airship, too, can hover fairly easily and so pick things up or drop them off (though ideally it needs to take on water ballast when dropping off). Cars, baggage, retinues and the like could conceivably be delivered direct to the destination; and a mooring mast for airships would be much less annoying on one's mountain peak hideaway or skyscraper penthouse than a runway for executive jets. That said, an executive jet goes conservatively five times as fast as an airship.
Cost? Hard to say, though many of the necessary wheels wouldn't have to be reinvented. There are airship construction and maintenance sheds still existing from the 1930s, and loads of old design data. Bulk helium supply is maintained by the US government. Modern engines, materials tech and structural methods could offer serious performance increases. Up-to-date weather data and navigation would allow one's air cruiser to avoid storms like the ones which wrecked the Akron and the Macon. Those two ships cost an average of $4m each to build in the early 1930s, which would be the equivalent of $60m in modern dollars; about £30m. An absolute snip compared to what one pays for a relatively dull, slow, water-only megayacht.
All in all then, it's rather surprising that the dull, stodgy billionaires of the world aren't buying flying yachts – although, as with submarines, hopeful entrepreneurs would love to build them one.
*Yes, yes. We know the fire was most likely triggered by a spark that ignited the airship's fabric, which had been cunningly waterproofed with rocket fuel. You don't need to write in.