Fed up with disjointed telephony?
Bridging the gap
Workshop roundup The proliferation of mobile phones has led to a situation in which many professional workers have at least two numbers and two voicemail boxes to juggle.
While most have accepted this as a normal state of affairs, it has become increasingly common for people to question whether the complication this leads to when trying to track someone down or stay on top of your own communications is beyond the wit of man to deal with – and indeed it isn't.
Most of the activity concerned with trying to solve this problem, which can also have cost-related benefits by reducing unnecessary cellular charges from the employee's normal place of work, has taken place in the larger corporate space.
Here, for example, are some of the solutions being employed or considered in organisations with more than 5,000 employees (data from a recent Reg Technology panel survey).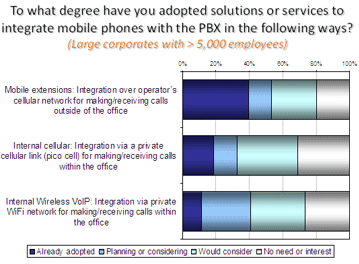 We cannot tell from this research how extensively the various options have been adopted, but it is nevertheless interesting to see that PBX/cellular integration solutions (that have been available for many years) are generally accepted as mainstream in the corporate space, with a healthy level of interest in private cellular and internal wireless VoIP - which are alternative ways to bridge the fixed/mobile gap when people are in a head office or branch environment.
Of course, another solution to the fixed/mobile disjoint is just to lose one of the two, and this is something we looked at specifically in a recent poll. The idea here is to acknowledge that for some groups of users, even for the entire organisation in some cases, the traditional desk phone has actually become a superfluous artefact of traditional culture and thinking, which can be ditched in favour of a purely mobile approach. The degree to which this is possible or relevant obviously varies between organisations, but in some sectors the idea seems to be gaining traction.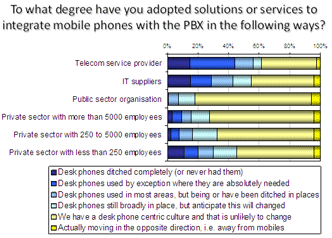 It is not surprising to see this so called "fixed mobile substitution" approach being particularly adopted in the IT and communications industry, but what does stand out is the way the approach varies by organisation size outside of this.
Around 20 per cent of smaller organisations that responded to the poll, for example, are completely or mostly mobile. Larger private sector companies are less inclined to move in this direction, perhaps partly due to "legacy lag", partly culture, and partly because of the amount of internal calling and conferencing that takes place between employees.
It is worth noting, however, that it is relatively easy to find business contracts offered by mobile operators that include unlimited free calling between employees.
The conclusion from these snippets of research is that the days of fragmented telephony and paying twice for essentially equivalent services and the overheads associated with them are disappearing, at least for many organisations. So, if the telephony disjoint is something that is causing you and your business issues, it might be worth checking the ways in which some others are obviously solving it. ®