Google malware watchdogs bite mom-and-pop shops
But not MySpace
One morning last week, Alan Jay, director of Digital Spy, woke up to discover that Google was warning millions of web surfers that his UK-based entertainment news site was one "that may harm your computer."
Those brave enough to click on the Google link anyway were invited to learn more about malware by visiting a page at StopBadware.org that said Digital Spy "has been determined by Google's testing to be a site that hosts or distributes badware." Users who still wanted to access the site had no choice but to cut-and-paste its url into their browser address bar.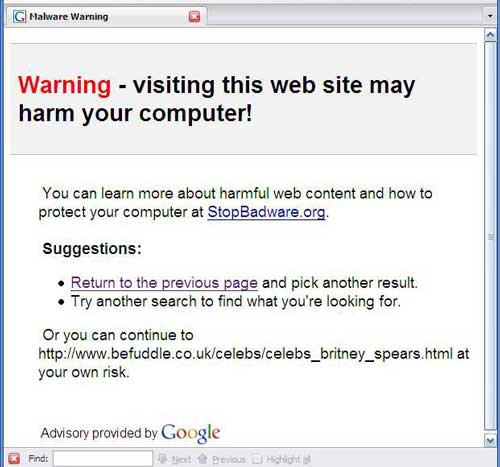 Google issues thousands of "harmful web site" warnings, often without notifying site operators.
Jay managed to get the warning removed five days later after tracing the problem to tainted banner ads that were served by one of the four advertising networks used by Digital Spy. Throughout the entire time, Jay says, Google and StopBadware refused to identify the source of the badware.
"We've been completely left in the dark, and we're in a situation where people think we have done something wrong," he says. "So Google's policy here seems to be to punish an innocent site but not provide information to allow an advertising network to find out what the advert is that is causing the problem and stop it delivering elsewhere in the network."
Banner badware
Jay's experience comes as cyber crooks increasingly look to legitimate third-party ad networks as a vehicle for distributing software that silently installs Trojans and other forms of malware while an end user surfs presumably safe sites.
Last week, it was revealed that a company owned by Yahoo dished out an estimated 12 million ads on sites such as MySpace and PhotoBucket that installed a back door on unpatched Windows machines. Several days later, Roger Thompson of Exploit Prevention Labs said in a blog post that a banner ad infected a test machine while it surfed FaceBook. Malware-laced ads date back at least 14 months, when banners running on MySpace infected more than 1 million users with adware.
"How come they pick on me, for example, but they don't pick on ... one of the really big sites?" Jay asked. "They don't appear to have penalized any of the sites that were subject to this last week."
Few law-abiding denizens of the net have a problem with Google using its considerable computing heft to sniff out malicious sites and warn its users to stay away. Regrettably, such initiative is sorely lacking at Yahoo and Microsoft's Live.com. But the experience of Jay and others like him expose some of the pitfalls of a system that frequently doesn't inform webmasters of its findings, fails to provide enough information for them to identify the source, and, in the minds of many operators of smaller sites, gives large websites an unlimited number of get-out-of-jail-free cards.