Home cinema kit goes 3D
The future is here, and it has a visor
After thousands of sci-fi movies have already exploited the idea, the possibility of immersive 3D films and gaming is finally upon us in the real world. Manufacturer Headplay claims to have created the world's first portable cinema capable of rendering both 2D and 3D content through a head-mounted visor.


The Headplay kit
The Headplay Personal Cinema System has two parts: a visor unit, that's worn by the user and includes a 'screen' that sits over their eyes, and the "Liberator" unit, which connects the visor to the content source. The Liberator is compatible with a range of multimedia sources, including your DVD player.
The unit has various input interfaces, including analogue, audio and USB 2.0 jacks, which enables it to connect up to PCs, Macs, consoles, mobile phones, and even iPods. It accepts composite video, component video and S-video signals in both NTSC and PAL formats, while running the software for managing the system.
It's unclear from the promo bumpf whether or not the visor is wireless, but you should soon get over any wires that are there when its Liquid Crystal on Silicon (LCOS) reflective technology kicks in. It has an extremely fast 120Hz refresh rate and creates identical images for the left and right eye to build a three dimensional world. Crucially though, it's not able to render any old image into 3D, only material that has been specially produced. It has a 34° diagonal field of vision and a virtual image size of up to 52in, which seems to sit about six feet away from your eyes.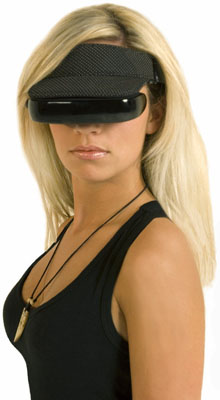 Looking good
The native resolution is a little poor at 800 x 600 pixels, so it won't replicate your 1080p TV, but we're guessing that at this early stage, the idea is more about the fun of being immersed in a game or TV programme than producing the latest available resolution. The visor also has built-in stereo sound capability.
The Headplay Personal Cinema System is available now for $500 (£250/€290).
At IFA, Berlin earlier this month, Texas Instruments demonstrated a 52in Samsung TV with its own 3D technology inside. The only drawback from the crisp and immersive images that it created was the, ahem, snazzy glasses it required us to wear. There are limits, people.